My Life's Been a Country Song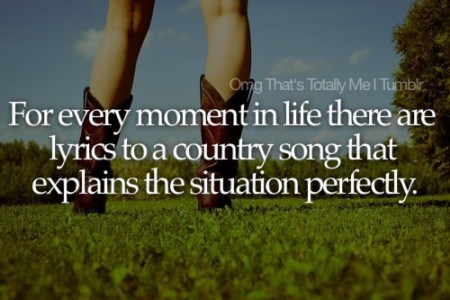 After a lot of people read my first post, Very Last Country Song…, I got a bit of criticism for it: "You like country music!?" "Isn't country music like emo music, but for rednecks?" (what does that even mean!?) "You listen to hillbilly music!" "Country isn't even music – it's horrible."
In my first post, I wrote how country music has helped me through the toughest times in my life, but I never actually explained why. So, maybe if I explain, the judgments will stop and open everyone's eyes that country is not "emo music for rednecks," and that maybe some of these songs can relate to your own life.
Losing my grandmother was one of the toughest obstacles that I've faced; I was close to her, so when she passed away, it really hurt me. I still remember hearing my dad on the phone with my mom. All he said was "she's gone…?" and I broke down into tears.
The rest of the night I listened to When I Get Where I'm Going, by Brad Paisley. It's a song that pretty much explains the afterlife. One of my favorite verses is "when I get where I'm going, don't cry or me down here / when I get where I'm going, there'll be only happy tears." It was sort of like my grandmother was giving me a message since she knew I was crying. A message that I still think about to this day, "when I get where I'm going, don't cry for me, and if you do, they should only be happy tears." Each time I listen to this song, it brings a smile and happy tears to me.
There's a phrase I always catch myself thinking when it comes closer to the holidays: "If Heaven wasn't so far away…." Well, Justin Moore's If Heaven Wasn't So Far Away, says it perfectly: "If Heaven wasn't so far away / I'd pack up the kids and go for a day / Then tell them we'd be back in a couple of days / In the rear view mirror we'd watch 'em all wave / Yeah, and losing them wouldn't be so hard to take / If heaven wasn't so far away." If heaven wasn't so far away, I know I would take that advantage and visit my grandmother more times than I could count, and the thought of losing another wouldn't be that hard because I'd be able to see them again.
I remember I tried showing my mom this song on the way to Brad Paisley's concert back in May, but the song kept skipping. At the concert, Justin Moore came out to open for Brad, he started it off with this song, and I remember saying to my mom, "This is the song!!!"
Another song that every time it's playing, I can't help but think of my grandmother is My Angel by Kellie Pickler. It's a song that she wrote for when her grandmother passed away, that I can honestly relate to. "Even though I can't touch your face / I feel you with me every day / I wish you could see all my dreams coming true / When I get lost I close my eyes / And I feel you shining down so bright / I feel you shining down on me." That part of the song always brings me to tears because it's exactly what I say and think when it comes to my grandmother; I always say I wish she could see everything that I'm doing from being on the school newspaper to my internship at the District Attorney's office, but I always know she's there with me through it all.
The chorus in My Angel, are the words that I know I want to say to my grandmother. "You were my best friend / You were everything I want to be / And all the good inside of me / There's never been / Never been another / That loved me like you did / My grandmother, my angel." My grandmother is truly indeed my angel.
(I promise there won't be anymore tear jerkers after this)
Good Girl by Carrie Underwood, helped me, because in her lyrics she says, "why you gotta be so blind / won't you open your eyes / it's just a matter of time / till you find/ he's no good girl / no good for you / you better get to gettin' on your goodbye shoes" which really helped me open my eyes, that he was no good for me. So when I broke up with him, I did it because I knew what I wanted; I wanted to focus on college.
I wasn't upset, I was rather happier more than anything. It was one of those non-healthy relationships that just was not worth my time. I knew that moving on with the rest of my life starts with goodbye, which is exactly what Carrie Underwood's song Starts With Goodbye explained and gave me the best advice. When it got closer to springtime, Reba came out with a new single, Going Out Like That
It's pretty much explaining about a girl who breaks up with her boyfriend, and he's under the assumption that she's going to be upset and heartbroken over it, like it's always been on the on and offs, but he was wrong. Instead, she was sick and tired of being stuck at home all upset and turned it around to going out happy and being with her friends. And this was an exact replica of what happened with me. I turned what he thought I'd be upset about, into one of the best decisions ever and happier than ever.
When I was bullied in high school, Kellie Pickler's Don't You Know You're Beautiful truly helped me. One of my favorite quotes that helped me was, "Your worth ain't on a price tag, it comes from within." It's just one of those songs that helps you find your self-esteem and bring it up. High school was also the time when I lost two friends. Their accidents helped me realize that life's too short, and in Tim McGraw's Live Like You Were Dying explains it perfectly well that you should not take life for granted. Though, he says, "I went skydiving, rocky mountain climbing…," they're not on my list of things to do, but I have zip lined and hiked in the Great Smoky Mountains!
Then there are the songs like Kick the Dust Up, Play it Again, All I Want to Do, and Drunk on a Plane, that all I have to do is just listen to them and they automatically put me in a great mood.The lyrics don't have to match what I'm going through, it's the beat and the catchiness in the tune that forces me to stop what I'm doing and start singing on the top of my lungs and dance like I've never danced before. So a big shout out to Luke Bryan, Sugarland, and Dierks Bentley for that!
The one thing country music has done to me is give me high expectations on love and how a man is supposed to treat a woman. But, then again, these artists are just regular ordinary people. And, country music tells you how it is without fabricating it.
There's a song by Eric Church, entitled Tallageda. Now, Talladega is the Super-Speedway for NASCAR, but the song does not have anything to do with racecars! The first line in the song starts off with, "it was the summer before the real world started." That right there sets the tone of the song, and is very relatable for everyone! I might not be there just yet, but I do know that the summer before I actually enter the real world, whatever it is that I do, I'll always remember it, like Church does with the Talladega. It's sort of one of those feelings when you're experiencing something you know you're never going to experience, and in one way or another, it defines a little piece of who you are. It's the emotional attachment we have to a memory. And, I'm sure this has happened for everyone!
How ma
ny genres of music talk about the US of A? Not many that I know, at least. For country music, there's a lot. I'm sure everyone has heard of the famous God Bless the USA by Lee Greenwood. And his This Land is Your Land. They're actually two of the most popular patriotic songs that are heard nationwide. Guess what? They're country!
Besides Lee Greenwood, there's Toby Keith with his Courtesy of the Red, White, and Blue andAmerican Soldier that were both written post 9/11. Chely Wright's Bumper of my SUV is a great song about having a Marine sticker on her car, and a lady one day cursed her out for it. But, there's a lyric in the song that I like the most, "Yeah, I do have questions / I get to ask them because I'm free," because it's the truth.
Country music speaks a lot about the truth, which is probably why Alan Jackson's Where Were You When the World Stopped Turning? became a big hit post 9/11. It's pretty much saying that no matter where we were, we all remember exactly what we were doing when the terrorist attack hit on September 11, 2001. I may have only been 5, but I know I remember that day. Another great song is Arlington by Trace Adkins. The thing that sets this song apart from others is the imagery it gives. It's from the perspective of a fallen American soldier told in a beautiful way.
I remember writing in my first article that country music even teaches a lesson; a lesson that sometimes is bigger than we think. I know I'm not the only one that sometimes wishes that life would just move on already so I could start my career. But, if there's one thing country music has taught is me not to do that. Because, there's going to come a day that I'm going to miss where I am in life right now and there's no going back. I've also learned to stand my ground no matter what and to always follow my arrow wherever it points.
Anyone that knows me knows that everything is Brad Paisley for me. He's my favorite singer, he's the reason I don't mind getting up at 3 a.m. to see him in the city, he's my ringtone, he's my alarm, he's the only music I have on my phone, he's the background on my phone, he's the picture I have hanging above my bed…I think you get the point; he's pretty much everything for me (that's a story for another time).  But, there's a song by him that is one of my favorites that I actually quoted in my bio for the Impact News.
I've been told so many times that there are things I can't do, and things I'll never be able to do. But I've never stopped dreaming and always believed in the impossible, which is what Paisley says in his song. No matter how many times someone tells you your dreams are impossible, all you have to say is, 'there's an American flag on the moon!'
I always tend to save this one for last, but that's because I'm going to talk to you about the reason I fell in love with country music. Baby Girl by Sugarland. It's a beautiful song about a girl that's on her way to make it big in the music industry and she writes to her parents that she's okay but asks for them to send money to help her. By the end of the song, she gets where she wants to be and she no longer needs her parents money and instead, sends them money. They end the song with saying dreams come true, which I guess spoke to me in a way. Cause, we all want to make our parents proud in life, and there's always that struggle we face in getting to where we want to be, and it does take a lot of time and sometimes their help, but in the end, it's worth it and you get where you want to be.
When I realized that this song told a story that I could relate to, I couldn't shut the music off. And, eventually ventured out to more artists. These are only a few of the songs that I feel connected with. I could continue writing more, but I'd be here all day and this would perhaps be a novel instead of a column.
As I said earlier, my reason for this post is pretty much for everyone to realize that country music is not what you stereotype it to be as. And, just because someone listens to it and you don't, next time, take a step back and think maybe it's not all that bad after all. Because, I know for anyone reading this, there had to be a point where you thought, "wow, I can relate to that!" That's because country music takes a part out of someone's life and puts it into words. So, I guess what I'm trying to say is….
This is Country Music!
(yeah, this is what I was talking about with my "everything" Brad Paisley!)
Leave a Comment
About the Contributor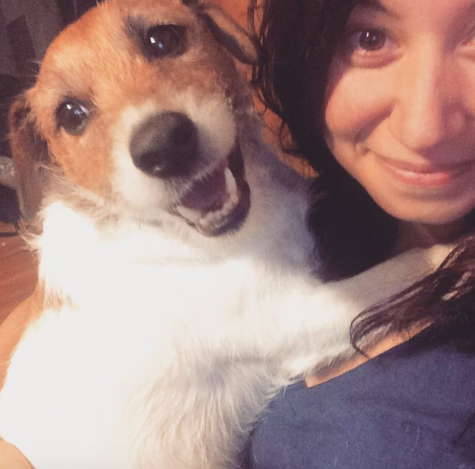 Kayla Simas, Managing Editor
Kayla Simas is a Journalism major at Mercy College. She's from the forgotten borough of New York - Staten Island. She's an avid coffee drinker and enjoys...