Lady Mavs Still Feel Playoffs Are Possible
"Here we go again."
How else could a team react to an 0-6 start on the heels of consecutive 20+ loss seasons? Worse yet has been the manner in which they've lost. Whereas last season's team were in nearly every game they lost, this team's been blown out pretty much every time they've stepped on the court.
The disheartening record shouldn't be attributed to a lack of effort however. The undersized team is paced by captain Jasmine Williams, the senior forward who leads the team in points and rebounds by a wide margin (she's also tied for the team lead in blocked shots).
This season, the Lady Mavs have struggled under Coach Kelli Dunlay and seemed to have regressed in 2011, yet the  third year coach sees things differently.
"What's killing us is we practice to be a fast break team, but when we get away from what we do best, when we go to the outside shot, we struggle."
Though Dunlay will concede that her team is shorter than she'd like (an issue she hopes to address with her next recruiting class), she refuses to pin her team's slow start on their diminutive stature.
"The bigger they are, the slower they are, and my team loves to run," explains Dunlay. "If you look at our stats for the last six games, we're going head to head with our opponent, within one or two rebounds each game."
Dunlay is quick to point out that the team starts conference play on Wednesday and that she is constantly reminding her team that they're 0-0 in league play. Though the coach admits that the program is still in a rebuilding phase, she is not at all shy about the potential this team has and what the realistic goal is for these girls.
"It won't take a miracle… I can definitely win with this group of girls," says Dunlay. "I guarantee we'll make the playoffs."
Most will do a double take when reading Dunlay's guarantee and who can blame them? The team is 0-6 after all but Dunlay is anticipating a change in the team's fortunes as the shots begin to fall.
She also doesn't need to worry about the team maintaining their focus during their slow start thanks to the two senior floor-generals she has on the court, Jasmine and Simone Williams (no relation). Simone is the point guard and floor general, not particularly vocal but quick to re-focus her squad if she feels they need it. Jasmine is the leader by example. Described by Coach Dunlay as a "little Charles Barkley" for the manner in which she crashes the boards and dominates the game, even at her height (listed as 5'9), which may be generous.
The real advantage to having senior leaders on this squad is that they have no interest in nor do they have time for a "rebuilding progress." For Simone, Jasmine,  and Crasheena Ward, this season marks the end of their collegiate basketball careers. There is no tomorrow for these players so they don't take, nor do they allow their teammates, to take a night off. Every game is a must win for these players and this team.
Dunlay admits dreading having to say goodbye to her talented seniors and fortunately, they don't have to for a while. As the Mavericks are very well aware, there is a lot of season left to play.
Leave a Comment
About the Contributor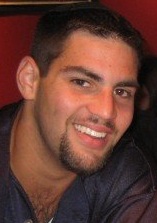 Chayim Tauber, Sports Editor
Chayim Tauber is a media studies major hoping to obtain a career in sports journalism and sports broadcasting. He is the sports editor of The Impact, has...