Mercy Freshman Volleyball Star Keeping Her Head In The Game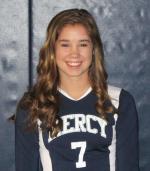 With anxiety flowing through her veins after her last kill, she makes eye contact with the head official, waiting for him to signal that it's okay for her to serve.
Dribble. Slap. Dribble. Slap. Dribble. Slap.
She leans back, tossing the ball in the air with ease and serves perfectly over the net.
The ball is quickly returned as she runs into her position on the back-line.
Bump. Set. Spike.
Bump. Set. Spike.
Bump. Set. Spike.
Block!
Bump. Set. Spike.
Service is finally over, but Mercy doesn't come away with the point.
Sweat falls from each player's face, arms and legs as each team battles back from deficits, inching closer to winning the match. But after a service error in game five, the Mavericks come out victorious.
With 24 kills, both game and team highs, Brenna White leads her team to a second straight East Coast Conference (ECC) win over Queens College.
After the win over Queens College, Brenna had totaled 354 kills, ranking her first in the ECC.
Brenna White, the 5'9" freshman outside hitter and defensive specialist from Gardnerville, Nevada, is on track to break collegiate volleyball records.
Since the age of 9, Brenna has immersed herself within the sport of volleyball.
Whether she was spiking into the hardwood floor or recovering digs on sandy beaches in Nevada, her love and admiration for the sport has not changed over the last eight years.
Other than her success at Mercy, one of her most prized volleyball memories took place during her senior high school season.
"We won state, which was really cool and a great experience," she recalled. "It was a really big deal because we were a small school and beat all the Vegas teams. It's probably the best accomplishment that I've had."
The state title she experienced at Douglas High School would be nothing in comparison to what she would accomplish in her first year of college.
With offers from other schools, including one in Colorado, Brenna decided to sign to Mercy because of its location and environment.
"It's a lot different from where I'm from, which is what I wanted in a college," she explained. "When I came on my visit, I really liked the campus. I liked the area and I liked my teammates."
The 3,000 mile difference between the campus and her hometown also sealed the deal. But at the end of the day, what really excites her is the way that volleyball has allowed her and her teammates to bond with one another.
"It creates a family on your team and that's my favorite part about the sport," she said. "You get really close with a lot of people and you learn to depend on them for support."
This support helped Brenna when first transitioning from high school to college volleyball.
With a quicker pace and taller, more experienced players, the atmosphere created by the collegiate level of the sport differed much from what she was used to and was more than what was expected.
Although her initial transition was difficult, similar to that of every new collegiate athlete, she quickly adapted to her environment and began to dominate.
Drawing in record breaking crowds didn't fluster or throw her off her game.
"Most of the times when I'm playing, my brain goes blank," she said. "A lot of the background noises help me at times though. The crowd cheering and stuff like that gets me going. But mostly, I'm blank ,and when I'm getting ready to hit, when I'm in action, everything comes instinctually."
Feeding off the crowds' energy allowed her to completely immerse herself within the sport and gave her the push she needed to develop and dominate.
At the end of September, the fourth week of the volleyball season, Brenna was recognized in the ECC and was named to the ECC Honor Roll.
And from that point, her accomplishments continued to roll in.
During the season, she was named to the ECC Honor Roll a number of three times and was also named Rookie of the Week twice.
At the end of the season, she was recognized by Daktronics and named to the All-East Region Second Team for volleyball.
Winding up her season, she was named First Team All-ECC, becoming the first All-Conference Maverick since Mariola St. Fleur was named Third Team in 2007.
As she continues to be notified of her accolades, she cracks a smile but reminds everyone that the awards aren't the most important aspect of the sport to her.
"I think that it's cool to break records and all that, but at the same time it's really about the team," she explained. "Obviously, I wouldn't be where I am without my passers and my setters and the rest of my teammates. Regardless of what I'm breaking or what I'm not breaking, it's about my team. That's what's more important. "
With the help of her teammates, she was able to set both Mercy and Division II records.
She led all divisions in the NCAA in the regular season and set the all-time Mercy freshman record in total kills, 652, posting the second-highest total in Mercy history. She also become the first Division II player to reach 600 kills in a season since scoring was reduced from 30-point sets to 25 each in 2008.
Her hardworking, enthusiastic and competitive nature ranked her amongst the top 5 all categories on her team with 652 kills, 319 digs, 32 blocks, 39 sets and 26 serves.
Although her numbers were astounding, she hopes to live up to the hype that she has created for herself and isn't completely satisfied with where she is as a player yet.
"I definitely need to work on my offense still," she said. "I need to be smarter and find the spots on the court better by doing more tipping and pushing. My passing wasn't the greatest this year, so my defense needs improvement, but mostly I'm going to work on being a better multi-tasking hitter instead of just always hitting."
Leave a Comment
About the Contributor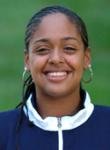 Jasmine Williams, Managing Editor
Jasmine Williams is a Senior majoring in Media Studies (Journalism) and minoring in Psychology. She is the Editor for the Impact and co-captain of Mercy's...