'Notre Dame' Icon Tackles Challenges At Mercy
 "Ru-Deee, Ru-Deee, Ru-Deee".
One of the most famous chants in the history of sports and cinema was heard in the Rotunda of Mercy College on Sept. 6 as the real-life Rudy was in the building.
Daniel "Rudy" Rutteiger, the man immortalized in the 1993 blockbuster "Rudy", visited Mercy College and spoke in an intimate setting of about 50-60 Mercy students and alumni.
Rudy, the man who's become the archetypal underdog and whose name is synonymous with perseverance, addressed the crowd by asking them to give a hand to the female athletes who had to persevere and sacrifice to be female athletes.
He told the audience that the key to overcoming the odds was his desire to achieve the impossible and to always think with "positivity."
Most dreams are impossible to achieve when a person harnesses negativity and focuses on the doubts, he said. They fester and weigh a person down, preventing one from achieving the impossible and reaching their dreams. Everyone needs help and there is no more important quality in life than the ability to think positively.
Rudy didn't just relay his message, however; he personified it.
Rudy went on to describe his uplifting story. How, after struggling for years academically (he suffered from dyslexia, which was not a common diagnosis at the time) and being rejected numerous times, Rudy achieved his dream of being accepted to the prestigious Notre Dame University, and later, of making it onto the football team. Measuring in at 5'6, 165 pounds, Rudy was phenomenally undersized as a defensive end and regularly took a hellacious pounding in practice. Rudy, a practitioner of "Bengal boxing" (unsanctioned underground boxing matches) was not at all intimidated and refused to throw in the towel earned himself a spot on the roster and actually earned playing time in the last series against Georgia Tech on Nov. 8, 1975.
Rudy spectacularly recorded a sack in one of his only two defensive plays.Ruettiger was carried off the field by his teammates, a first in Notre Dame history.
In the movie, it was the last play of the regular season, but in reality, Notre Dame lost a week later to Pittsburgh, 34-20, and then won on Nov. 22 against the University of Miami by a score of 32-9. The team finished 8-3 and was ranked no. 17 in the Coach's Poll.
Rudy, an honorary graduate of Mercy in 2010, saw a little bit of himself in the smaller school.
"Look at the vision for Mercy," he commented. "Over the last four years, enrollment is up and new buildings are being built. The vision is just unbelievable".
Not all of Notre Dame legends see eye to eye with the former practice squad star. Last year, former teammate and NFL Hall of Famer Joe Montana made assertions that Rudy's being carried off of the field on his teammates' shoulders was a joke done tongue-in-cheek.
Rudy responded, "To him, sure, it was a joke. But to those guys, the guys who carried me off the field, I was no joke."
Rudy's address was attended by nearly all of the women's softball team as well as members of the women's basketball, men's soccer, and men's lacrosse teams, all of whom received free copies of Rudy's new book as well as an inscription from its famous author.
The book details the Rudy story far more in depth than the movie ever could and clarifies some of the misnomers created by the leniencies taken by director Angelo Pizzo and Tristar Pictures. What did actually happen, what didn't, the real dynamics behind the bench and off the field are all documented in his book, Rudy.
This was no mere book-promotion however. Rudy, as only he could, left the crowd with a message of inspiration and a mantra that helped fuel his indomitable spirit and allowed him to achieve his epic sack of Georgia Tech quarterback Rudy Allen nearly 40 years ago.
"To be a champion, you don't have to be the best. To be a champion, you have to do your best. That's what makes a real champion."
Leave a Comment
About the Contributor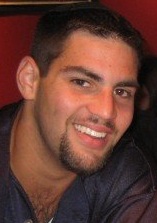 Chayim Tauber, Sports Editor
Chayim Tauber is a media studies major hoping to obtain a career in sports journalism and sports broadcasting. He is the sports editor of The Impact, has...