Cheerleader Fever
Mercy College's cheerleading team has been a disappointment in recent years, due to lack of support, low participation, and a number of chaotic sequences.
At least that's their story, and they are sticking to it.
Yet that all changes this year, according to its new leadership.
Since the start of the team, there has been trouble getting such a team involved long enough to participate in sport activities and uphold a positive attitude in the team's success. Sophomore Captain, Joy Marie Daley, proves otherwise as she vouches for a stronger support system and a team with high spirits. Having four years prior experience, she encourages others to have a positive outlook.
"Tryouts were rough," she says. "It was difficult for the participants to learn cheer-steps and dances, so I began with the basics. By the second day, things were better because everyone was just so open to learn and be a part of what they believe possible."
As co-captain the previous year, Joy has watched many come and go, and hopes the trend doesn't become repetitive. Leading a new team, she remains highly optimistic about their potential for success.
There is an estimated 1.5 cheerleaders in the United States at high school and college levels. The sport dates back to as early as 1877, as Princeton University crowds began using "Hurrah" to inspire their Tigers. The concept then spread to smaller teams that trained to cheer on their teams. In 1897, the term "Cheer Leader" was first used at Princeton to describe three student leaders who were considered exceptional cheerers. Princeton alumni who traveled to the University of Minnesota brought the concept with them and the trend was introduced to a new region of the country.
Currently, 97 percent of cheerleaders are women. But women did not begin cheering until 1907. For 30 years, all cheerleaders were men.
Joining the team for the first time, freshman Tyreke Quinones, better known as Ricky, knows all about cheerleading. Being the only male on Mercy's team, as well as in his high school, he has had a chance to revel in opposition.
"It's different," states Ricky. "But it overpowers other people's thoughts of this being a female sport, because it is a sport, not a club."
His love for the sport he encountered during study hall in high school. He inquired about it to a friend, already interested because it was so similar to gymnastics, which he'd done for 11 years. Ricky describes his first tryout as "the best feeling having the ability to use stamina, strength, and flexibility from dance, stunts, and gymnastics all together."
Three years later, he arrived at Mercy College, bringing his high spirits to a diverse team and an even more high spirited team, ready to rowdy up crowds at games and make cheer leading history. Will the team finally lift off the ground and thrive in its expected glory? A year of hard work, team work and body work can only reveal. Sporting blue and white outfits, the cheerleading team is expected to perform for the Mercy Maverick's Men's Basketball team on Nov. 14.
Leave a Comment
About the Contributor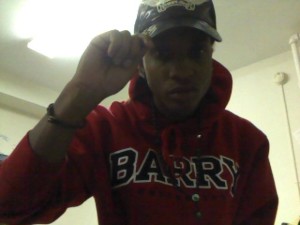 Barry Paige, Impact Staff




My name is Barry Paige, an english education senior intersted in the arts. The President of the Poetry Club on campus and a veteran of the step...