Mavericks Field Reinvigorates Athletic Program
Mercy College finally got a new car and it's the fastest, shiniest one on the block.
After years of playing on a subpar field that was markedly inferior of those of their ECC opponents, the Mercy Mavericks have a newly furnished, state of the art field that they can proudly call their own.
Mavericks Field has been unveiled.
Mercy officials confirm that the 120×75 field cost roughly $1.5 million of Mercy money that was budgeted to be used for the field prior to the start of the school year. The field was financed independently, despite rumors of  contributions from sponsors or either the towns of Irvington or Dobbs Ferry.
The new field is a faster field, equipped with the same turf (and by the same company) as 10 NFL game-day fields, three MLB game-day fields, and 34 FIFA certified fields. The turf features a state of the art drainage system which facilitates the flow of water towards underground drainage pipes that will help keep the field dry and safe to play on.
Another important safety feature the field boasts is a "brock pad" system beneath the turf that helps absorb shock and reduce the concussive impact of a fall. The added expenditure was considered a worthwhile investment from Mercy officials who placed a priority on student safety.
The field, though expensive, has several cost and environmentally conscious concessions. The rubber infill between the turf fibers are recycled rubber. The artificial turf doesn't need to be l be watered nor does it need to be sprayed with pesticides or herbicides, nor does it need to be mowed as would regular grass (thereby reducing fuel usage and carbon footprint reduction).
Still, the new field's biggest impact will obviously be in athletics.
"Everyone likes it," said Sean Robinson, a player on the men's lacrosse team. "It's a faster field than most, and we get to practice on it so we are becoming used to it. "it's the first time we really have a home-field advantage."
Coaches are also thrilled with the field, already anticipating the advantage it will give them in terms of recruitment.
"It's a great addition to our school," said men's soccer coach Chris Smith. "The players are excited about it. I'm also excited about future recruiting by being able to sell the facility. It's a great situation for all involved."
"I think the field was a great opportunity for the community, as well as our student athletes. It will allow our teams be able to play on a field that's first in its class. I think that's what we were hoping to get out of it. And I think the field is a success…It provides opportunities for all our students," said Mercy COO Joe Schaefer.
Mercy's athletic department declined to comment on the new field.
The field has already played host to several movie showings, men and women's soccer, field hockey, and practices for Mercy's spring-season teams, as well as for club and intramural sporting events. Surprisingly, the first competitive sporting event played on the new field was played by Dobbs Ferry High School football team. The yard markers and field-goal posts were erected in concession to the local high schools in the hopes that Mercy could maintain its good standing within the community.
In its inaugural season, the new field has already seen a marked improvement in the record of the Men's soccer team from 6-10-1 and 1-6 in conference play 10-4-2 and an even .500  record in conference play this season.
How much of the team's newfound success can be attributed to having a quick, state-of-the-art field to call their own, or the expected boon to recruiting, is a matter of speculation. One thing that has quickly become evident though, is that with the christening of Mavericks Field comes a new era in Mercy athletics.
Leave a Comment
About the Contributor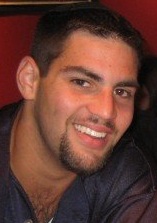 Chayim Tauber, Sports Editor
Chayim Tauber is a media studies major hoping to obtain a career in sports journalism and sports broadcasting. He is the sports editor of The Impact, has...