House In Order: Women's Basketball Ready To Rebuild And Thrive
The Lady Mavericks basketball team has a tall hill to climb this season. They are coming off of a season in which they went 3-23 and had a fractured locker room.
Mercy's done everything to forget last season's disastrous season; adding Coach Rashidi Aikens, and replacing last season's scoring production (departed stars Jasmine and Simone Williams) with fresh talent in the forms of senior guard (and captain) Aysha Williams, senior co-captain MarQuesha Moore, and sophomore Shaniqua Lewis.
Williams and Lewis are the team's leading point scorers through the early part of this young season averaging 14.3 and 10.5 ppg, respectively. Williams leads the team in assists as well and has scored in double digits in every game this season.
The prevailing issue for the Lady Mavs is a combination of their lack of height and their porous defense. They are allowing an average of 93 points a game (38 more points on average than they score) and have made playing from behind an unfortunate habit.
Worsening matters is the dearth of height on this team. Shaniqua Lewis is the team's tallest player at 5'10 and is oftentimes dwarfed by her opponents. MarQuesha Moore and Lewis are the team's rebounding leaders, but the rebounding arena is one in which the Mavs are getting slaughtered. The Lady Mavs are a staggering -23 in rebounding this season, burying them in a hole from which they appear unable of digging themselves out of. Their inability to get second chance opportunities or worse yet, prevent their opponents from getting extra opportunities and second-chance points is their most glaring weakness.
Still, the first and most pressing issue the Lady Mavericks had to address was team chemistry. The bickering and lack of cohesion amongst players and coaches was the biggest detriment and storyline regarding last season's team. This season, Coach Aikens was quick to make sure that team chemistry would not be an issue this season.
"At the beginning of the season, we had a team retreat, we went to one of the player's house- and basically tried to build team chemistry. We're trying to build a positive atmosphere here," Aikens said.
The team as currently constructed is a "work in progress" as even Aikens will admit but they hope to overcome their lack of size and recent history with hard work and a renewed dedication to their new coach's program.
"Scrappy", "tough", and "determined" are buzzwords that are usually a harbinger of a long season but given where this program has come from, "scrappy", "tough", and "determined" have never sounded sweeter.
Though the season has thus far been an unsuccessful campaign, there is cause for optimism. It normally takes a while for a team to learn a new coach's system and this season is still very much in its infancy. The Mavs have only played one conference game to date and though the outcomes and statistics aren't promising, they have to be taken with a grain of salt.
Aikens had a very successful tenure at Nyack College, winning two NCAA East Region Championships and the 09'-'10 CACC North Division Regular Season Championship and CACC Tournament Championship. His methods have a proven track record of success, and once the players are properly acclimated to it, they should be a much more competitive team.
Four games into a season with a new coach isn't much of a barometer as to where the Lady Mavs are but there are several factors worth making note of. The lack of size has led to the Lady Mavs being utterly abused on the boards and that is something they will need to remedy if they have any hope of success.
On the flip side, the superlatives being applied to the Lady Mavs are words like "scrappy", "determined", "tough", and "fighters." It's refreshing to see those adjectives written about a team that were called "quitters" in this very publication just a year ago.
Things are looking up for the Lady Mavs, even if there's still a tall hill to climb.
Leave a Comment
About the Contributor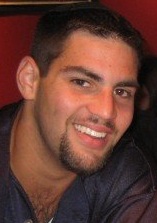 Chayim Tauber, Sports Editor
Chayim Tauber is a media studies major hoping to obtain a career in sports journalism and sports broadcasting. He is the sports editor of The Impact, has...