Joe Pope Leading The Offense For Maverick B-Ball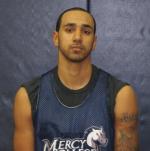 "Thank god for a broken finger – otherwise, we might never have gotten Joe Pope," remarked Adam Parmenter, Head Coach of Mercy's men's basketball team. "If he didn't break his fingers, Joe would be playing high level football. He's that special of an athlete."
As a freshman in high school, defensive end Joseph Pope tackled the opposing quarterback simultaneously with a defensive teammate. When he got up, he found that both of his pinkys were bent at angles that fingers don't bend at. It was at that point that Pope started giving basketball a long, hard look.
Pope, now a senior, is one of the stars of the Mavericks and of the ECC. His ability to put points up on the board has earned him multiple ECC Player of the Week honors as well as mention on the honor roll.  Pick a category and Pope is one of the team leaders.
He leads the team with 17.4ppg on 47 percent shooting. He's third on the boards with 6.1 a game, tied for third in assists, second in steals, third in blocks. Name it, Joe Pope does it. He's been the go-to-guy for Mercy this season, and a jack-of-all trades as well.
"I think the phrase 'tweener' is a bit of a misnomer," said Parmenter. "He's a player without a position and that's a good thing – you can't really match up with him one on one. He can score inside on guys because of his size, and he can hit the outside shot if you put a bigger guy on him."
Pope is more than happy in his role as a guard/forward, just as long as he's getting the opportunity to play. Whereas last season Pope was playing only 20 minutes a game, this season he's become Mercy's horse; playing nearly 30 minutes a game. A lot of that can be attributed to his improved skills.
"I spent the summer working with the assistant coach," Pope said. "I played every day and was working on my ball-handling and my outside shot – just my all-around-game. I've just been pushing myself hard."
The hard-work has translated into an all-around game that's one of the best in the ECC. His skills hasn't necessarily translated into wins though for a team that has struggled with injury issues. Parmenter admits that the program is in midst of a "building process"; a process that Pope relishes being a part of.
"I want to push these guys. I'm not much of a talker. I lead by example," Pope said.
That he's not much of a talker isn't a surprise as basketball is not his first sport. The seventh of eight children, Pope first tried playing basketball in the eighth grade as a walk-on.
"I was really skinny and then; I was about 6'2 in the eighth grade. I was awkward, but I started becoming able to manage my size," said Pope.
As a 6'2 eighth grader, his game primarily centered around shot-blocking. It took years of playing at every possible opportunity to develop the ball-handling skills, the jump shot, and the all-around game that he now features as one of the league's premier forward/guard hybrids.
Pope, a criminal justice major, hopes to continue playing basketball at the conclusion of his tenure at Mercy College.
"Hopefully, I can keep playing ball," Pope said. "I'm trying to play oversees. Tryouts are in Vegas this summer and I'm going to go from there."
Pope hopes the legacy he leaves behind at Mercy is one of a hard worker and good natured.
"I might not always make the best decisions all the time," laughed Pope, "but I'm a good person."
***
The men's basketball team fell to 4-19  after a 102-79 loss to LIU during the Breast Cancer Awareness game. The Mavericks won two games in a row by defeating Roberts Wesleyan, 69-57, and District of Columbia, 76-71.
Pope led the team in scoring against Roberts Wesleyan with 20 points. Junior forward Kirk Bailey ripped down 13 rebounds and scored 13 points to register a double-double. Junior guard Chaz Morrish scored nine points, including a crucial three-pointer with three minutes remaining in the game.
The win over District of Columbia had similar statistics, as Pope led all scorers with 21 points. Bailey recorded another double-double and set career highs with 18 points and 15 rebounds.
Mercy's first win came on Dec. 15 against Chestnut Hill, 79-74.  On Feb. 13, after trailing 17-6, Mercy rallied to win St. Thomas Aquinas, 68-63. Pope scored 14, Mignot scored 12 and Bailey through in 10. Freshman Nate Stitchell scored nine points and added four assists.
Mercy has three games remaining. It's last home game is Feb. 20 against Molloy on Senior Night.
Leave a Comment