Mary Save Us: Ace Pitcher Aims to Lead Mercy To Playoffs
Before all is said and done, Mary Sieber is going to own some Mercy College records.
If she ended her athletic career today, she'd still be in Mercy College's top 5 in six different pitching categories. She is the unquestioned ace of Mercy's young staff and one of the unquestioned leaders of the team now that former stars Alex Puglisi and Jenna Ausiello have departed (via transfer and graduation respectively).
Sieber has won 20 games in 43 career starts despite inconsistent and often shaky play out of the bullpen. Her nine wins last season were all games that she started and finished. Of the games she lost, a couple of them were one-run games, and several were games in which Mercy scored one run or fewer in support of her.
"We lost a lot of 2-1 games. One small change here or there, one pitch I shouldn't have thrown… just things I could have done better," lamented Sieber.  "It's definitely frustrating, but it's something I have to build off of."
Maverick softball is counting on her doing just that. It missed the playoffs by a game or two, a run or two really, and Sieber is now the face of a team re-tooled and primed to make a real run at the playoffs.
"I'm dying to win the conference championship," said Sieber. "Our team looks awesome. I know we can and in my head, that's my goal right now."
Sieber comes from a family of athletes and was encouraged to play ball early. "I was always taught that it's just you and the catcher. Like I'm in a brick tunnel, just block everything out. I'm learning to smile more but I'm definitely focused."
Her focus on softball and on pitching seems predetermined. Her older sister, a softball catcher, needed someone pitching to her so Mary's role was carved out early. Her favorite athlete, and one of her idols, is former U.S. National Team, University of Arizona, and Chicago Bandits pitching superstar Jennie Finch. So much so that she wears Finch's no. 27 on her jersey as homage.
The appeal of Finch to Sieber and so many other girls was primarily the way she bridged the dichotomy between "girl" and "jock."
"She was just an awesome pitcher and totally gorgeous, I mean… she's just perfect," Sieber opined.
Though by her own admission, that dichotomy, the stigma associated with female athletes as "jocks" or as "manly," is less pronounced at Mercy than it was at high school, she is still cognizant of its existence.
"When we're dressed up and go out it's kind of like 'wait, who are these girls'? People kind of do a double-take. I think it's funny."
Admittedly, not everyone has the same devil-may-care attitude as to the way they're perceived. Bridging the gap between "woman" and "athlete" is one of the many sacrifices that female athletes make to pursue their chosen sport. The toll athletics takes on a male athlete's social life is offset by the fact that he's a jock. Athletes like Sieber, however, have to sacrifice their weekends in dedication to their craft without the social benefits entitled to a male for being a jock (usually). Sieber isn't blind to the sacrifices and as female athletes move up the scale of competitive athletics, the sacrifices become ever more pronounced.
"(Women's sports) has grown… it's taken a lot. It's crazy how much they do for the love of the game. The women don't get paid nearly as much as the men; they play for the love of the game. Female athletes have more heart."
Sieber hopes to ensure that women's athletics continues to grow. Her current job has her teaching children how to play softball, a pursuit she'd be more than happy to pursue once her career at Mercy is done.
"I would love to be a coach," Sieber admitted.
Helping the next generation assume the mantle left by Jennie Finch and others seems the perfect ambition for Sieber – eventually.
For right now, she has her sights set on the record books and a conference championship.
***
The softball squad, stationed in Florida, stands at 3-4 at press time.  The team fell to Wilmington, Delaware, 4-0, in its opening match but avenged that loss with a 6-5 victory in the doubleheader. Trailing 5-3 in the final inning, freshman Taylor Concklin hit an RBI triple, and then later scored to tie the game after a Lexi Majury RBI single. Sophomore Jessica Doria hit an RBI single later in the inning to give Mercy the lead.
Brittany Serrao started the game, pitching four innings and allowing four runs on six hits. Jessica Simpson pitched earned the final 2.2 innings and recorded two strikeouts, earning the victory.
Mercy defeated West Liberty, 4-3, on March 11. Two days later, Sieber pitched a complete game against Bentley, allowing only two hits while striking out six in a 2-0 win. Designated hitter Kimberly Crnkovich doubled to left field in the second inning and knocked in two runs, giving Mercy the lead.
Mercy's first home game will be held March 20 against Goldey-Beacom.
Leave a Comment
About the Contributor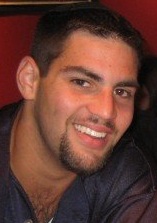 Chayim Tauber, Sports Editor
Chayim Tauber is a media studies major hoping to obtain a career in sports journalism and sports broadcasting. He is the sports editor of The Impact, has...