Women's Lacrosse Hovering Above .500 at 6-5
The women's lacrosse team is vying for a playoff spot and a winning season as it sits at 6-5 overall and 2-3 in the East Coast Conference.
Last season, the Mavs finished with a 7-8 record and a 4-4 record in the conference.
"I think that we are figuring out what works for us and what doesn't," said Coach Dawn Anselmin, who is in her first season as coach. "We have six games left, hopefully we can win those out."
Anselmin praised the players for adjusting to a new style of play this season.
"We put in a brand new system this year which was very different from last year, so I think that we have had enough time to figure things out. We just have to perfect it to the point where we can make a quick run at the end."
The Mavericks had a postponed game at Bridgeport last week due to a thunder storm. With only 15 minutes left in the game, the Mavs were winning. The game has been postponed until April 27 at 1 p.m.
The Mavs pulled a tough draw when they ran into the top ranked team in the nation, Long Island University, and fell 16-3.
In the LIU post game, Senior Marissa Hurley, senior Brittany Ott and junior Kelsey Bub all scored a goal each, while sophomore Nicole Kline had an assist; senior goalkeeper Stephanie DiLegge stopped nine shots. The 16-3 loss led junior Kelsey Bub to try harder and harder for the following games.
"Last season, I didn't have a good season, but our practices this year are a lot harder and it made me come out as a better player because we train harder," said Bub. "I've gotten a lot faster and I think practicing harder has brought everyone else more together than from last year and we are more of a family this year than we were last year."
When asked why she thinks she improved, she said: "The intensity of practice has gone up a lot and that has helped us a lot. Everyone is getting better and now I'm being challenged more than I was in the past."
Anselmin put in her opinion of Bub having more confidence.
"I think your confidence has been a lot better. We rely heavily on her (Bub) for goals. If she takes eight shots, she gets three goals. Some people don't like taking a large amount of shots but we expect her to do that. It is a lot of pressure on her but she practices really hard every day."
Overall, Anselmin thinks that there are doing well thus far and is very proud of her team.
The team bounced back form its lopsided loss with a 12-11 victory against Queens CollegeThe first half was a close call as Mercy scored six times to Queens' five goals. During the second half Mercy was down 10-8 with 14+ minutes left in the game. Mercy scored three goals to take an 11-10 lead. Senior Marissa Hurley obtained the first two, while Bub had the third. With seven seconds before overtime, Julie Darnulc scored the game's deciding goal on a free position shot to send the Mavericks to victory. Darnulc, who played in her first game returning from injury, scored twice and had two assists, while Bub, Hurley and junior Tracey Wandle all scored three goals each. In the cage,DiLegge had 15 saves.
The Mavericks most recent loss was against Southern Connecticut State. The Mavericks were down 4-1 with 18:11 left to go in the first half. Mercy then scored four straight shots to take a 5-4 lead; Bub had two of those shots. Following halftime, the two teams remained in a tight game. The Southern Connecticut State Owls were then able to score six straight goals over a 13-minute span to take a commanding lead of 11-6. The Mavericks bounced back and scored two more times, but that still led to a loss and ending the game with an 11-8 score. Overall, Bub scored three times and Wandle had two goals and two assists. DiLegge made five saves throughout the game.
For next season, there are major players that the team is losing, but coach is ready and has faith in the players that are coming back for next year.
"A core of us are back [for next year] so it's really to just tightening things up and perfecting it. I think we have showed a lot this year that others teams that we played against weren't ready for in Mercy. I think that working off of that and excelling and working those things to perfection would be our best bet."
Leave a Comment
About the Contributor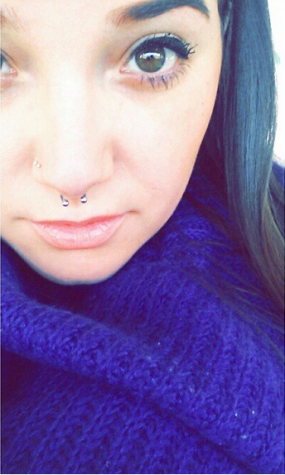 Erminia Errante, Senior Editor
Erminia Errante is FINALLY A SENIOR with an English Education major and a journalism minor. Living in Brooklyn, she has a passion for writing and loves...