Week 3 Recap: New York Jets vs the Buffalo Bills
Tone Time did it again. After a tumultuous offseason where rumors were flying that Jets veteran wide receiver and former Super Bowl MVP was not going to be able to play at all this season after suffering a serious Lisfranc injury early on in the 2012 season. But on Sunday, Holmes proved to everyone that he is healthy, and can still contribute in a big way.  The Jets squeezed out a narrow 27-20 victory over their division rival Bills, in typical New York Jets fashion.
The defense was outstanding on Sunday for the Jets. Besides one big run by Bills running back Fred Jackson on a missed tackle, the Jets were able to shut down the bills offense with relative ease. They held all pro running back CJ Spiller to just 9 yards on 10 carries, and sacked rookie quarterback EJ Manuel an impressive 8 times. 7 of those sacks which came from the Jets dominant defensive line.  With second year man Quinton Coples back in action after suffering an ankle injury early in the preseason, the Jets line was in full force, with Manuel feeling the effects.
The Jets offense also showed promise putting up 27 points. QB Geno Smith looked anything but a rookie on Sunday as he threw for over 330 yards in just his 3rd career NFL game. Smith was on fire all day as he hit second year receiver Stephen Hill for a 51 yard touchdown on a beautiful throw down the right sideline that hit Hill in stride on his way to the endzone. The other touchdown pass was the game winner for the Jets. Smith was able to connect with Holmes for a 69 yard touchdown pass on a deep ball that hit Holmes right in the numbers. It was a throw that not many rookie QB's can make, especially in a clutch moment.
The Jets were also able to run the ball at will against the Bills defense. With Chris Ivory going down for the Jets with a hamstring injury, it was up to former Louisville Cardinal Bilal Powell to step up. Powell was able to run for 149 yards on 27 carries. This was the first time in Powell's career that he was able to rush for over 100 yards.
One negative stemming from this game was the number of penalties on the Jets.  A franchise record 20 penalties were called on the Jets Sunday, with many of them helping out the Bills significantly, one even resulting in a touchdown. The Jets will need to clean the penalty situation up if they want to make a run this year.
Overall, this was a very good game for Gang Green. The offense played well, the defense dominated, and most importantly they were able to leave the stadium with a win. This week the Jets travel down to Tennessee  to face the 2-1 Titans in a game where the Jets have a chance to improve to 3-1 on the season. This one should be  great game.
Leave a Comment
About the Contributor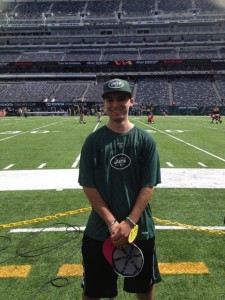 Michael Nash, Impact Staff
Michael Nash is from Shrub Oak, New York. He is a sophomore journalism major. He also writes for the TheJetPress, an online New York Jets fan site,...