Mercy Mavericks Baseball Recap and Season Preview
Before the start of every season, each team is tied for first place.
After a rough 2013 season, the Mercy Mavericks were looking forward to putting the past behind them and putting together a strong 2014 season in which they return many key players from the team last season, and added many talented freshman to squad.
One key member of the Mavericks who will be looking to have himself a strong season is ophomore infielder Steve Longo. Longo played in forty games as a freshman last season and hit a respectable .261 with 17 runs batted in, and also added one home run on the season.  So far this season for Mercy, Longo has been the teams best hitter. Up to this point, he is hitting a team leading .333 with two runs batted in, and has also had a big impact with his glove, having twenty four assists.
Another Maverick who will be looking to have a strong season is senior first baseman Jesus Jaile. Jaile has played in at least twenty five games every season since his freshman campaign as a Maverick. Last season, Jaile batted .259 in twenty six games played, with eleven runs batted in. So far this season, the senior has been off to a very hot start playing in all eleven games, and hitting .323, which is the second highest bating average on the team behind Longo. While his bat has been off to a hot start, Jaile has also been steady in the field at first base. Jaile has recorded 68 put outs, and has yet to make an error.
No player on the Mavericks got off to a hotter start than Junior infielder Anthony McQaude. In just a four game span, McQuade was hitting an impressive .417. To go along with his strong average, McQaude totaled seven RBIs, three runs scored, and two stolen bases. A transfer from Chestnut Hill, McQaude had himself a great game against his former team going 3- for- 4 with a team high five RBIs, two doubles, and a run scored for the Mavericks. For his impressive week, McQaude was awarded the East Coast Conference Player of the Week in Week 3.
So far this season, the Mavericks have put together a record of 3-8. Unfortunately for the Mavericks, four of those losses came by less than three runs.  The Mavericks have found themselves having strong pitching, with the team having a combined team ERA of a bit over four with a 4.73. The best pitching performance of the year for the Mavericks may have come in there first game of the season again Chestnut Hill, in which Mercy pulled off a 4-1 victory.
In the first game against Chestnut Hill, Junior pitcher Bryan Greig was on his "A game," flirting with perfection – pitching six straight no-hit innings. To finish it off, Junior Vinnie Luppino picked up the save allowing just one hit and striking out one in the last frame. In total, Greig pitched 6.0 innings, not allowing a hit, walking three and striking out six strikeouts in route to a Mercy victory. Greig and Luppino combined to pitch a one-hitter, which is a great accomplishment, but an even greater accomplishment with it coming in just the first game of the season.
Through just eleven games this season, it is evident that the Mercy Mavericks and head coach Bob Greiner have the potential to have themselves a very strong season. The team has solid pitching, and possesses  the ability to put a lot of runs on the board with a solid offense.
Leave a Comment
About the Contributor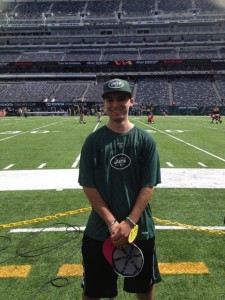 Michael Nash, Impact Staff
Michael Nash is from Shrub Oak, New York. He is a sophomore journalism major. He also writes for the TheJetPress, an online New York Jets fan site,...