Roberts Helps Mercy Women's Basketball to New Heights
The women's basketball team this season may not currently have the record that it would like. It is ranked last in their conference. It finds itself at the wrong end of most games thinking about the "what ifs," with some of the players even with tears in their eyes.
The desire to win burns deep.
This is case for senior center Brandone Roberts. This may be her first year playing for Mercy but she has undeniably made a huge impact. Not just saying huge because stature (6'4), making her the tallest woman on her team. Her success hasn't come easy, and there was a long road to get here.
She's combined for an overall 216 rebounds, making her the leader for rebounds on her team and third overall in the East Coast Conference with a 10.3 rebound per game average.
Although impressive, Roberts still sees the need for more. Just like any other athlete.
"I'm the tallest player on our team, and there's games when I have four rebounds. That's just unacceptable. I want to be better for my team," Roberts remarks. "Every time I'm on the court."
The team is something she seems to give more credit to. Being away at school all the way from Maryland, Roberts doesn't get to go home as often as she would like. So she has made a home away from home, finding a family in her teammates and coach.
She even jokes about how "people always ask me if coach is my dad. So now I just go along with it and say 'yes.' I'm with him and my team so often, they are my family."
Roberts came to the school after already playing for Coach Rashidi Atkins previously in her time spent playing right across the Tappan Zee Bridge in Nyack.
Although she admits that he did solely get her to come to Mercy in the first place, she also admits that she didn't really get much of a chance to play for him there.
Roberts had been struggling since her sophomore year with shoulder injuries. First, it was on her left shoulder, which left her not able to play to the best of her abilities. She struggled through rehab, leaving her shoulder her pain free for her last year playing at Nyack.
Not being able to play the year before motivated her to play even better. The training room and weight room became another new home fore Roberts. She was working hard to come back for her teammates in order to play her role on the court.
In her last season at Nyack, she was playing outstanding once again. Back to doing what she loved and missed so much. Only to have disaster strike six games into the season. She had injured her shoulder again, this time it was the right one.
Yet this shoulder injury was more serious. Her rotator cuff again. This time she needed surgery.
After her surgery, her mission was the same. Get back onto the court as soon as possible, even if it meant not with the team she started with.
"When I decided to pursue my master's degree, I started looking at schools and decided on Mercy. Knowing Coach definitely helped me to come here."
The glove fit. The team was working well as a unit. Their impressive 3-0 start to their season proved promising. No other Mercy women's basketball team has had as impressive start in years.
On Dec.8, 2014 the team even led the NCAA in defensive rebounds per game averaging at 37. A stat in which Roberts' uses her height as an advantage to stay consistent.
Roberts was even named Eastern College Player of the Week the week of Dec. 16, being only the second player from Mercy to do so since entering the conference at the beginning of the fall season.
But those on top must fall down at some point.
The team lost its fourth game of the season to Chestnut Hill, 67-49. The losses just started slowly coming from there. These Mavericks wouldn't even see a win in the entire month of January. Not an easy thing to bounce back from.
"It stings when we work so hard and the whole team contributed. But at the end of the day those teams aren't the ones beating us, it is us beating ourselves," says Roberts about the losing streak.
On and off the court time is spent together. The chemistry can be seen. Connecting passes on the court, loud laughs off the court and a mutual respect for the work each other has put into preparation. Practices are a place of zero pressure. A place to make mistakes so they don't happen in the game. A place to push each other to be their best.
So now it's time to pick up their energy, Roberts feels. Still walking with their heads up leaving the past in the past and only looking towards the future. Taking it one game at a time.
With the thoughts in their heads that if they work hard enough they can beat anyone they look to the future.
This proved true for the lady Mavericks on Feb. 7 when the team upset the number one team in the conference. Mercy traveled to play the Knights of Queens College on their home court. They came out with the win, outscoring them 63-49.
Ending the 11 game drought while building confidence to know that this team could be anyone in the conference.
Roberts ended the game with 11 rebounds and three blocks, leading her team in both stats.
With this huge upset, the team is no longer the last team in the conference, proving that it never deserved to be there in the first place.
When looking back on the season so far, Roberts said, "I wish I could do this year all over again with this team, and play with that confidence every game. We'd be unstoppable. But as for the future, Mercy basketball is going to be something to lookout for. I guarantee it."
Leave a Comment
About the Contributor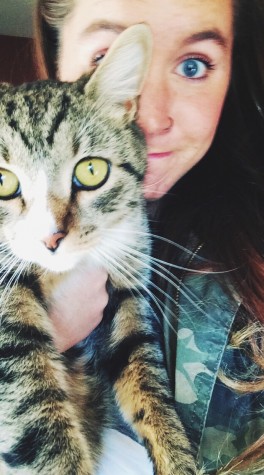 Marie Roser, Managing Editor
Marie Roser is from Kingston and attends Mercy College for TV and Radio Production. She was on both the field hockey and lacrosse team for four years at...