Wood and Reinauer Look to Excel in Final Lacrosse Season
It was the first game of their last season against Pace. The game was tied at 12 with 43 seconds left in the final quarter of regulation play on Feb. 21. This next face off was crucial.
The ball was loose off the face-off as the Mercy men's lacrosse team stuggled to get it to safety and to one of their players. Senior defenseman Christian Reinauer swatted the ball towards his scoring end, in hopes that his fellow senior attackman Jesse Wood would receive it.
The time was ticking down. The ball still loose.
Wood finally got a hold of the ball. He had one man to beat. He turned and shot the ball.
"I wasn't sure if I even made it," Wood remembers.
But he did. With 21 seconds left, Wood had scored the winning goal. His team rushed to him to celebrate.
When the final buzzer ran and the game was over, Wood ran to Reinauer and they embraced their victory together.
The roads of the best friend redshirt to get to this point were nothing less than complicated.
"We were not going to lose our first game of our senior season," they both said.
***
For both players, injuries played a big role in their outlooks of the 2015 seasons. While both players had to overcome knee problems, both injuries were very different.
Going into his junior season in 2012, Wood had come back to school after winter break, wanting to play.
His body had another plan in mind.
Wood's knee was extremely swollen and painful to even walk on. They had him on crutches and in boots, not sure about what was going on.
He was first diagnosed with a torn meniscus or anterior cruciate ligament (ACL), a major ligament in the knee used for pivoting turning and twisting.
Halfway into his season, he decided to redshirt as doctors were still trying to figure out exactly what was wrong. Finally, he was sent to an arthritis specialist because he was determined to find out what was causing all the pain and swelling.
Traces of a gene called human leukocyte antigen (HLAB) B27 were found in his blood. With this gene appearing, doctors discovered that he actually had reactive arthritis.
Reactive arthritis is caused by a bacterial infection, such as salmonella. It attacks  joints and causes swelling and pain. Normally, if the pain is not severe, one doesn't even have to go to a specialist and it can go away on its own.
Wood refers to it as "a freak thing, especially since they told me only like 8 percent of Caucasians carry the HLA B27 gene."
He was in and out of hospitals throughout the season. He was getting IVs and all different types of medications. Wood was determined to step on that field again and be stronger than ever. He was excited to come back in the fall. Working hard all summer and continuing on a strict diet made him stronger than ever.
His fellow teammate and friend Christian Reinauer was also coming back from injury. This time for his senior year in 2014.
Reinauer was disappointed when he had to sit on the sidelines during that fall ball season. His appendix had burst, and he needed surgery. He was in recovery until fall ball was over.
He remembers being so excited to get back for his senior season. "I wanted that team to be the best."
He was hitting the weight room. Eating better. Getting in the best shape of his life for one last shot at a championship.
Reinauer came back after winter break ready for preseason. He was working hard every practice. Still lifting on his own. He was determined to help his team get to the East Coast Conference (ECC) Championships and win.
The Mavericks had gone 2-0,winning their first two games of the season.
But their test came in their third game against Long Island University (LIU) Post Pioneers on March 1, 2014.
The pioneers were ranked No. 4 nationally at the time. This was Mercy's chance to show them they belonged up there too.The first quarter was a grueling battle and ended in a 3-3 tie. In the second quarter they trailed by one goal and went into the third  quarter in need of a score.
Suddenly in the middle of the third quarter, Reinauer went down. There was no one around – just him with the ball.
He lay on the ground, dug his hands into the turf, and started screaming, moving his hands to his helmet and grabbing his head.
"It was the worst pain I had ever felt in my life. I had a feeling I knew what had happened," Reinuaer says about that moment.
Even Wood knew what had happened just from watching.
Reinauer suffered a non-contact ACL tear on his left knee. His momentum on a jump cut was too much for his knee to handle.
He was put on a stretcher and carried off the field.
He remembers "something very strange" in that moment, since "afterwards he said he had zero pain. "Like it didn't even happen. I thought I'd be fine to go back in and play."
Luckily for Reinauer, if you can even call it luck, it was a clean tear. This meant the surgery would be much easier and much less needed to be fixed.
Twenty eight days later, he had his surgery. And rehabbed back into recovery finally returning at the end of this past fall.
He applied and was accepted for a medical redshirt that season which allowed him to return to play this 2015 season.
When asked about their injuries, both players agree "it was a blessing in disguise."
Both Wood and Reinauer changed their plans after graduation. The extra year gave them a chance to get their grades up and do more specifically what they liked.
Wood remained a biology major, but took more classes focusing on anesthesia, setting him up to immediately qualify for nurse anesthesia programs. Reinauer made the change from criminal justice to finance, even earning himself an internship this spring.
They both look to this season's futures with high hopes. Part of that blessing includes the team in which they have put together for this spring.
"This is the most talented group of guys I have ever had the opportunity to play with and for that I am lucky," Wood has to say about this current team.
Reinauer, nodding his head, agreed with a huge smile on his face.
The whole team sacrificed and worked hard every day to make each other better. It is something neither of them had ever before been a part of.
And it shows: heading into the season, the team won the first two and are hungry for more. Although the past two games were close, one even resulting in a one goal loss to Seton Hill, the fire can be seen under them when they take the field. The team sits at 4-1.
Reinauer is even strong enough to play without his knee brace, a huge accomplishment after the injury.
"We are our biggest enemies," Reinauer will tell you. "If we lose, it's because of ourselves."
And when you have the Mercy College all-time points leader Jesse Wood on your team, it's hard to blame anyone but themselves. But those stats are the last thing on Wood's mind. He refused to talk about it because if it weren't for his teammates, he says, he wouldn't even be in this position.
As for where this season is going to take them, they are gushing with confidence. Reinauer asks the question "Do you want my ring size now, or later?"
Leave a Comment
About the Contributor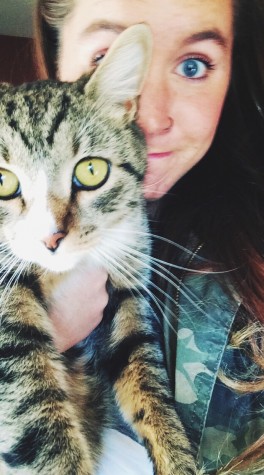 Marie Roser, Managing Editor
Marie Roser is from Kingston and attends Mercy College for TV and Radio Production. She was on both the field hockey and lacrosse team for four years at...