Arcabascio Plays With Only One Number In Mind: #26
It's all about the number 26 to Brooklyn native Nicholas Arcabascio.
While some pick a number randomly, or after a major leaguer ball player, Arcabascio wears it for a real idol, his grandfather, who has supported him in every step of his baseball career.
Arcabascio attended Xaverian high school but didn't think playing college baseball was an option.
Arcabascio attended Quinnipiac University after high school. He majored in physical therapy. But there was a void in his life. He missed the thrill of baseball. Arcabascio tried out for the baseball team his freshman year of college. He made the team, and could not wait to display his talent and show everyone that he deserved to be on the team. Yet freshman year did not go that well  as he was just a practice player. He barely played in games yet his mother and father kept encouraging him to continue to play. They knew there son was very passionate about baseball.
" I was just on the team, but I didn't really play."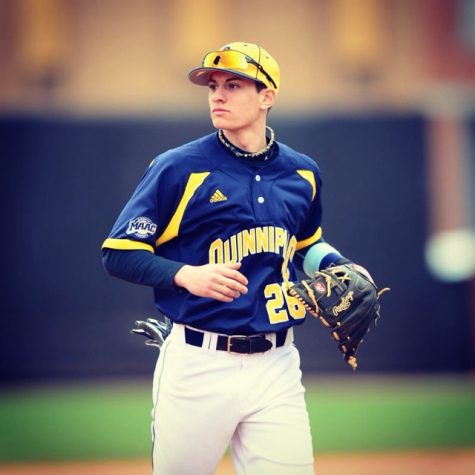 Although Arcabascio rode the pine his freshman year, he vowed to himself that he was going to make sophomore year a breaking out year. Arcabascio worked very hard through during fall ball to sharpen his skills. Because this year was going to be a great year for him. But he received unfortunate news out of the blue.
"The new coach decided to let me go. He told me there was no room on the team for me."
Arcabascio felt that he did not deserve to be cut the way he did. He worked himself to the bone to be on the team. He had to earn everyone's respect because he was a walk on. He played the whole fall season thinking that he was going to have the opportunity to play in the spring and to hear at the last minute he was not going to be on the team devastated him.
"Coach basically kept me to be a practice player – it broke my heart."
The thought of transferring was on his mind everyday. He wanted to have the opportunity to embrace his passion for baseball again. His previous coach who cut him offered to help him find another school to transfer to but Arcabascio did not want to take him up on his offer.
Feeling defeated, Arcabascio did not want to play baseball anymore. But his summer ball coached convinced him to keep fighting.
"He told me that I have to play. I can't let it end like this."
After not picking up a bat for six to seven months, Arcabascio channeled his rage on fighting for the love of the game. He trained like a warrior because he knew he had something to prove.
"I used my grudge I held towards the sport as motivation."
His grandfather was also his motivation to keep playing baseball. He wears the number 26 because his grandfather was born February 26, 1926. Although Arcabascio's grandfather did not understand the game of baseball, his support meant the world to Arcabascio.
"My grandfather was from Italy and did not speak English that well. He did not know what was going at my baseball games but I appreciated him for being there."
Arcabascio contacted Mercy College's new head coach Jason Lamando to see if he could play for the Mercy College Mavericks. Lamando was so impressed with Arcabascio's skill he offered him a scholarship. He could not wait to play, he was just grateful to have the opportunity to play baseball again.
Arcabascio earned a starting spot as a second basemen for the Mercy Mavericks. He is one of the best hitters on the team with a batting average of .309. He plays in memory for his grandfather who passed away two years ago. Before every game as the national anthem ends, Arcabascio squats down on one knee and looks in his hat as a ritual for his grandfather.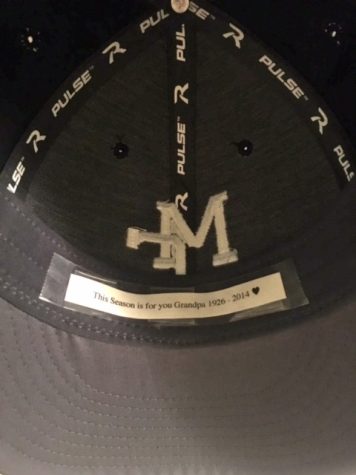 The Mercy Mavericks are 5-14 in the East Coast Conference. The Mavs are a long shot to make it to the playoffs yet are fighting hard to make it.
The Mavericks have a four game series left with LIU Post to end the season.
Randal Mendez is leading the Mavs in batting with an average of .318. Scott Hagan is not only leading the Mavericks in RBI but he is also ranked fifth in the ECC.
Win or lose, the Mavericks have a fan from above. The real No. 26. The man Arcabascio plays for every time he laces up his cleats and swings a bat. The grandfather who always offered support. The type of man that builds character in a grandson.
And to one Mav, that's all that really matters when playing on the diamond.