Field Hockey's Amell is Making Saves On and Off the Field
Junior goalkeeper and nursing student, Julia Amell, was exposed to sports like soccer, basketball, and golf, at a young age, but none of these sparked a passion in her like the one that was ignited when she began playing field hockey.
Amell first started playing when she was in the first grade. In her small hometown of Greene, NY, it's one of the sacred sports.
"Everybody in my town is into either field hockey or wrestling," stated Amell. "Everybody starts playing in the first grade and then continues on until high school or college."
Amell was successful at other sports before deciding to hone in on her field hockey skills.
"I played soccer and basketball until high school, but I chose field hockey because I always played in a club, and it was always a strong passion I had."
Amell was drawn to field hockey by admiring a few older girls in her town. It is a sort of local tradition in the town of Greene for older girls to take a young player under their wing and guide them throughout the years, encouraging them to continue on with their field hockey careers.
For athletes, the family aspect is often the main motivation to play a sport. This rang true with Amell when asked if she had any inspirations for playing the game.
"Both of my parents ran the youth program [that we had], so they always kept me in the game and pushed me to get better," said Amell. "Also, my grandmother was at every game of mine and always cheered me on. My grandma is my biggest inspiration in life."
When it came time to decide where Amell would go to college, she found her home at Mercy because it provided the two things she wanted: field hockey, and nursing.
"I chose Mercy because I knew that I needed to have both of my passions in one school," she said.
The Mercy College nursing programs works with the athletes at Mercy to make sure that they succeed in both school and sports.
"Mercy makes it a privilege for a lot of athletes to be nurses," said Amell. "I chose Mercy because the nursing program was able to work with my field hockey schedule and my field hockey team is able to work with my nursing schedule," she said.
Amell hopes to graduate college with her degree in nursing and dreams of becoming a midwife.
Her life as a student athlete is very hectic. For Amell, she practices six days a week on the field plus three days in the weight room, as well as games every week. On top of playing, Amell currently takes five classes at Mercy, plus a clinical course in Manhattan on Mondays.
Even with her busy schedule, Amell is grateful for the opportunities that have been given to her and loves the hectic lifestyle.
"I love it. I don't think I could ever not have a busy life. It keeps me sane, and it keeps me organized," she said.
Being an athlete, many personal and team goals are set each year. One of Amell's goals when she was younger was to make it to college-level field hockey.
"The moment that everything clicked and I realized that this is real, and that I accomplished my goal, was during my freshman year when my coach called my name to play at our very first game."
Coach Deirdre O'Neill sees nothing but positives when it comes to Amell.
"Julia has been one of the most dedicated players that I have had the privilege to coach thus far. Despite her busy schedule with nursing and field hockey, she has maintained one of the highest GPAs in the nursing department and on the field hockey team. Her dedication to the team and her school work are something many people look up to," O'Neil said.
Amell's teammates are what motivates her to work hard and continue to improve every day.
"Our family is stronger than it's ever been. All of us are so close, and we all want to do better for each other. We all motivate each other to get those wins in," said Amell. "When one of us goes down, there are four of us right there to pick them back up. No matter what the circumstance is at practice, we're keeping each other up and we're having fun with each other no matter what happens."
Amell and the rest of Mercy's field hockey team are looking to make the conference tournament this year. Making it to the playoffs last year is a motivator to make it even farther this year.
"We want to make it to the conference tournament and make it to playoffs again. We just have to keep working hard and winning those games," she said.
The team is hopeful that they can make it to the playoffs for the third time in the team's history. They currently have a 2-9 with a 0-6 conference record. After starting 0-3, Mercy won its first game against American International, 1-0 on Sept. 9. Mercy won it's second game against Molloy, 2-0, on Sept. 16. Amell has shared goal time with junior Cheradyn Pettit. Amell has a goals against average of 2.34 with 32 saves and a 78 save percentage. Pettit has 43 saves with a 3.41 goals against average.
Junior Angela Robbins leads the team with four goals, nine points and 20 shots on goal. Junior Alicia Williams is second in points with six after scoring two goals and recording two assists.
Leave a Comment
About the Contributor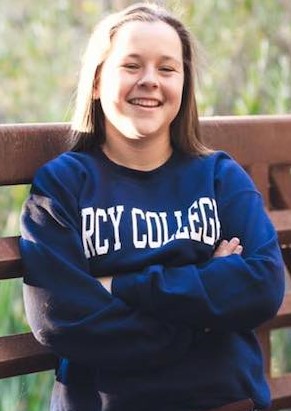 Jess Brandt, Sports Editor
Jess Brandt is a Media Studies major specializing in Journalism. She is from the wholesome town of Folsom located in beautiful Northern California. She...