Student-Athlete Spotlight: Ally Boots
Versatility is a strong attribute.
Ally Boots, sophomore forward for the Mercy College Women's soccer team, came into the soccer season being named ECC Preseason Defensive Player of the year. However, Boots quickly stepped up into the forward position when her team needed her, and it paid off in dividends.
Boots led her team with 16 goals, 3 assists and a total of 33 points on the year.
Boots racked up a number of awards from the East Coast Conference this year being named ECC Offensive Player of the Year, ECC First Team, First Team All-East Region, Offensive Player of the Week, and two-time ECC weekly Honor Roll.
Boots and her team advanced to the Final Four of the NCAA Tournament, making Mercy College history. At the tournament, Boots was named First Team All-American, the first Maverick player to be awarded this prestigious award since 2014.
The Impact: How long have you been playing soccer?
Ally Boots: Since I was four years old.
TI: Does playing sports run in your family?
AB: My dad played football and my mom played softball and volleyball, but not past high school sports.
TI: Have you played any other sports?
AB: Growing up I played basketball and softball, and then in high school I played volleyball and ran track.
TI: What do you enjoy most about soccer?
AB: Being on a team. It's like built-in best friends, and also the feeling when you score a goal or make a play that wins a big game for your team.
TI: What inspires you to play?
AB: Helping my family financially to get me through school.
TI: What are you majoring in?
AB: Communication Disorders/ Speech Pathology.
TI: What are your hopes after graduating?
AB: To get my master's degree in speech therapy, and then either work in a school or a private practice as a speech therapist.
TI: What is your favorite memory playing soccer?
AB: I think my favorite memory playing soccer was going into my freshman year of high school. My club team won State Cup, Regionals, and National Cup with only 12 girls, sometimes 11 depending on injuries. That journey really reminded me of going to the Final Four because we were definitely the underdogs but we kept fighting and it resulted in winning a national cup.
TI: How did it feel to make it to the Final Four?
AB: It is a once in a lifetime opportunity, and I feel so blessed to be part of the team that made Mercy College history.
TI: What was the feeling like for you and your team beating LIU Post for the first time in program history, to win the ECC Championship?
AB: It was an amazing feeling to not only beat them, but dominate them on their home field in front of their fans and bring home the ECC championship for the first time since 2014. I think it showed just how special this team was, and that we were a force to be reckoned with. Everyone had a lot of heart this season, and really played for each other
TI: How does it feel to be named All-American?
AB: It is definitely a great accomplishment, and I feel really blessed to have that recognition for my season, but I really couldn't of done it without my teammates. They just made me better, and were a huge part of me winning that award.
TI: What is your favorite song to listen to before a game?
AB: A-team by Travis Scott, or Ball Like This by L.A leakers and Future
TI: Who is your favorite professional soccer player?
AB: Megan Rapinoe.
TI: Favorite sport other than soccer?
AB: Basketball.
TI: Favorite food?
AB: Mexican food.
TI: What is your favorite part about playing soccer for Mercy College?
AB: Having a team that is always going the extra mile to work hard. Sometimes it isn't always by choice, (cough cough field laps, thanks coach) but everyone comes together to push through because we know that in the end it is going to benefit us to be the best team we can be.
Leave a Comment
About the Contributor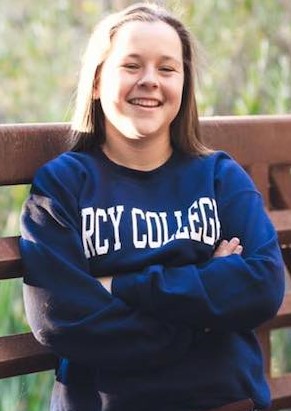 Jess Brandt, Sports Editor
Jess Brandt is a Media Studies major specializing in Journalism. She is from the wholesome town of Folsom located in beautiful Northern California. She...