Lady Maverick Battling Back After Injury
Sullivan Returns To Court After Head Injury
Told she might never play the sport she loves again, Casey Sullivan accepted that challenged and was determined to prove her doctors wrong.
Sullivan, a senior captain on the Mercy College women's basketball team, is all heart. She is a leader, a fighter, and has an inspiring story about never giving up on something you love.
Inspired by her two older siblings, Sullivan found her love at an early age.
"I grew up with two older siblings who always played sports. I loved being at their practices and watching them. I fell in love with the game."
Competitiveness is in Sullivan's DNA. Sullivan can remember all of the games she would lose while playing basketball with her siblings. After losing so many, victory seemed hard to achieve. However, as time went by and and Sullivan continued to practice, the first taste of victory she was able to obtain is one she won't soon forget.
"I remember the first time I was able to beat my sister, that was the best day of my life," said Sullivan.
Her older sister, Hilary, was her main inspiration to play. "I loved playing with her and watching her play. I wear number twenty four now because of her."
Her competitive nature and her sisters inspiration is what helped her get through one of the most difficult times of her life. Her goal coming into the season is simple. Sullivan said that it was to come back stronger than she left.
"Personally, my goal was to get back onto the court after the injury I suffered," said Sullivan, who now has her sights on not just returning, but becoming better.
In middle of her sophomore season, Sullivan suffered what most would consider a career ending injury. Diving for a ball in a rival game against LIU Post University, Sullivan was on the ground when an opposing player dove on top of her, flipping over her neck. With a season ending concussion and neck injury, Sullivan had a long ride back to getting on the court.
"I had a lot of rehab to do and I was given two PRP (Platelet Rich Plasma) shots," said Sullivan. "These helped helped with the headaches I was getting and when I would lose feeling in my fingers. Some crazy stuff happened."
Having a headache for fifteen months straight, it took a lot of heart and determination to get back onto the court.
"I was told by four doctors that I would probably never be able to play again," said Sullivan. "That was motivation to prove them wrong."
The motivation was there, but with the motivation comes the struggle. The mental exhaustion from injuries proves to be the toughest part in coming back.
"The mental side was the toughest part. Having a concussion was hard because no one can see it or feel it except you. You just have to get through it."
Having a strong support system was a pivotal factor in Sullivan's road back.
"My family was my biggest support system. They didn't fully understand the pain I was in, but they didn't need to, they still supported me," said Sullivan. "My family and a few of my friends and teammates here at Mercy really just helped me get through the journey."
Coming back at the end of her junior season, Sullivan's goal throughout the rest of the season and during the summer was to get ready for her last season at Mercy.

"I worked so hard during the summer. I was doing Physical Therapy everyday as well as playing for a summer team back home," said Sullivan. "I was doing whatever I had to do to get back healthy."
Diagnosed with Post Concussion Syndrome, and still some pain in her neck, Sullivan is back on the court and playing her heart out in her last season here at Mercy. After a journey like hers, it is encouraging to see how positive her mindset is.
"It helped me love the game more. Since I couldn't play, my mind was always on playing. I was constantly thinking basketball, basketball, basketball," said Sullivan. "It made me realize that I always want to do something with basketball, whether that's playing, coaching, or whatever there is."
Since being back on the court, Sullivan has 62 points on the season and averages 3.6 rebounds a game.
With three more wins than last season, the Mavericks are currently 7-18 on the season and have three more games to play.
Leading the Mavericks this year in scoring is freshman Amber Brown, averaging 12.7 points a game. The Mavericks have improved on their 2016-2017 year with six wins on the season. The Mavericks take action on Feb. 21 at Nyack College.
Leave a Comment
About the Contributor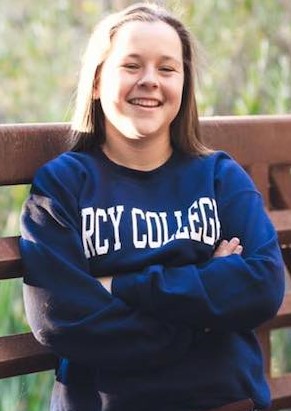 Jess Brandt, Sports Editor
Jess Brandt is a Media Studies major specializing in Journalism. She is from the wholesome town of Folsom located in beautiful Northern California. She...