Maverick Softball Hopes for Repeat Behind Lloyd
With their first ever NCAA Tournament appearance and East Coast Conference Championship in 2017, the Mercy College Softball team looks to improve on its historic season.
Leading the Mavericks is senior captain and outfielder Morgan Lloyd. Starting at a young age, Lloyd knew softball was going to be in her life for a long time.
"I started playing when I was eight years old and I fell in love with the game," said Lloyd. "I played other sports like soccer, but I loved softball and I didn't want to play anything else."
Being the only child, Lloyd took after her parents. With her mom playing softball and her dad baseball, it was inevitable that Lloyd would eventually be in a softball uniform. Now at Mercy, Lloyd has a cheering section on the side every game.
"My mom and dad make it to every game. It's awesome being able to have them here supporting me."
Last season Lloyd made a big impact of the field for her team. Leading the team with a batting average of .436 and 29 RBI's, Lloyd was named to the Division II East-Region team, ECAC First-team, First-team ECC as well as ECC Co-Player of the year. This season, Lloyd has been named Co-Preseason Player of the Year.
Lloyd displays a lot of humility and motivation in regard to her awards. She is also quick to mention her teammates.
"I don't like to talk about my awards that I get. I was always taught that you don't get awards without your team and I fully believe that," said Lloyd. "I won Preseason Player of the Year and now my focus is to do everything I can for my team and maybe earn regular season Player of the Year."
With the season coming up, Lloyd is eager to get out there and perform for her team.
"Like I said earlier, my goal is to do everything I can to help my team win," said Lloyd. "Based off the season we had last year, people are expecting us to do just as well and I'm excited."
After only losing a few players, the Mavericks have a lot of returners, as well as eight solid newcomers this season.
"We lost some players but we have absolutely filled their roles. We have 21 girls who are ready to go out there and play," said Lloyd. "I have played here for four years now, and this is the best team I have played with."
With a new season comes new challenges. For the team, Lloyd is confident in who they are and what they will achieve.
"I think our biggest challenge coming into this season is going to be finding who we are," said Lloyd. "Last year we started our season later than usual and we had to figure it out really fast, so this season I think we need to find who we are early and stick with it."
When it comes to personal challenges, Lloyd is focused on making the most out of her last year playing at Mercy.
"One of my biggest thoughts coming into this season is realizing it's my last year. I want to enjoy it all," said Lloyd. "I've played here for four years and I've seen three years of seniors leave. Now it's just realizing that every game is one less game I'll get to play."
As a team, Lloyd and the Mavericks are focused on filling the shoes that they filled last year.
"We don't want last year to be a fluke," said Lloyd. "We want to go out there and prove to everyone that we are here to play and we can do this again."
Fluke or not, the Mavericks were stellar last year and are on their way to being just as good. Going 33-16 overall and 18-6 in conference play, the Mavericks look to better their record this 2018 season.
Earning the top seed, the Mavericks hosted the 2017 ECC Championships. Playing in a double elimination tournament, the Mavericks took on LIU Post in the first round. After a win in that game, they moved on to play NYIT in their second round. With another win, the Mavericks advanced to the championship game where they took on LIU Post again. A loss there forced a game 7 championship game. The Mavericks then swept LIU Post in a 7-0 win to take the ECC Championship.
With the players returning, the Mavericks will be very solid. Lloyd leads the team along with fellow captains Allie Pellizzaro and Baylee McCormick. Returning for the Mavericks are seniors Cassidy Wooten and Skania Lemus who both had a batting average above .400. Also returning for the Mavericks is sophomore Destini Bullock who batted .347 on the season with 18 RBIs and 22 runs.
Coach Mike Fazio and the Mavericks begin their season on Feb. 16 against Clarion University in Myrtle Beach. Their first home game of the season is on March 22 at 2:30 p.m. on the Mercy College Softball field.
Leave a Comment
About the Contributor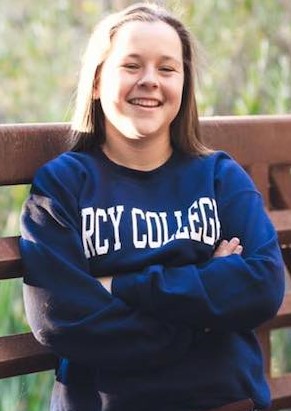 Jess Brandt, Sports Editor
Jess Brandt is a Media Studies major specializing in Journalism. She is from the wholesome town of Folsom located in beautiful Northern California. She...