Team Work Makes the Dream Work
The Mercy College Women's Lacrosse team is off to a stellar start of their 2018 season. The Mavericks are currently 6-1 and are currently ranked No. 9 in the Intercollegiate Women's Lacrosse Coaches Association (IWLCA) Poll.
Though talent and skill is a big factor in winning games, the three captains for the Mavericks, Hope Coticchio, Grace Davidson, and Emily Jehle feel that the team's bond and work ethic is what has put them over the edge against their competitors.
"Our team chemistry is awesome," said Jehle. "At the end of the day, everyone is out on the field working just as hard as the next person. We all want it for eachother."
The team just got back from a week long trip to sunny Florida where they had two important games. They left with one win and one loss, as well as a stronger bond as a team.
"The Florida trip was great," said Davidson. "We had two great games, and were able to bond a lot with each other."
The team first faced Georgian Court University. With a pounding 21-9 win, the Mavericks were ready to face their next opponent, No. 1 ranked Florida Southern University.
"That game was a really good game for us," said Coticchio. "Playing a team of their rank, it made us play up and we were able to see our potential."
The Mavericks gave No. 1 ranked Florida Southern Mocs a run for their money. With a two-goal lead throughout most of the half, the Mavericks held on for a tight battle.
"We were either ahead or right behind them during the game," said Jehle. "We were never out of it."
The Mavericks led 7-6 but eventually succumbed 19-12. Junior Hunter Isnardi recorded 6 goals and 1 assist and freshman Casey Shimborske finished with 2 goals. Jehle recorded 2 assists as well as 1 goal, and freshman goalkeeper Emma Jacobsen recorded 5 saves.
"The Florida Southern game showed us how far we really can go," said Davidson. "It set the bar for the rest of the season."
Since returning from Florida, the Mavericks have improved their record to 6-1 with a 21-6 win against Jefferson University. Coming away from Florida, the Mavericks have found their bond as a team and are ready to achieve their goals this season.
"This trip made us so much closer," said Coticchio. "Being together every part of everyday, we all came together and really bonded. You can see the chemistry reflected on the field."
With a new season comes new challenges. The Mavericks are facing these challenges as a team and are ready to knock each one down.

"I think our challenge this year is the different teams we are facing," said Jehle. "We are facing harder teams. Teams that we didn't even think about facing last year, and the important thing for us is how we go about facing each team."
Coticchio was quick to mention the preparation for these games and how important it is for their team to be ready for each and every game, one game at a time.
"Our preparation every single day is key for theses games. We haven't seen some of these teams before so it is all about getting prepared for the next game and once that game is past, then our focus turns to the next one."
With the addition of ten newcomers to the team, the Mavericks have filled the spots left from seniors last year, and have stepped up to the plate and their hard work has already been paying off.
"We already have people stepping up in big ways," said Jehle. "We have filled the gaps, and it makes a big difference on the field."
Coming into the season, the Mavericks were ranked second in the preseason poll behind LIU Post University. Being second and not first has become a motivation for the Mavericks to prove people wrong.
"Knowing all the hard work that we have put in and knowing that we still aren't first is a big motivator for us to go out and go get it," said Jehle. "We know what we want and we are ready to go get it."
Leading the Mavericks in goals and points is junior Hunter Isnardi with 44 goals and 49 overall points. Senior Emily Jehle leads the team in assists with 24 assists and 31 points overall with 7 goals. Senior Grace Davidson has added 23 goals on the season and 26 points overall.
Coach Dawn Sachs and the Mavericks take action at home on April 7 at 11 a.m. against Molloy College on Mercy Field
Leave a Comment
About the Contributor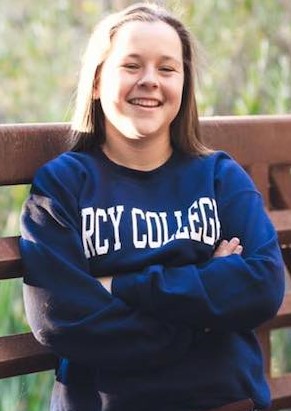 Jess Brandt, Sports Editor
Jess Brandt is a Media Studies major specializing in Journalism. She is from the wholesome town of Folsom located in beautiful Northern California. She...