Baseball Looks For First Playoff Berth Since 2010 Behind Mooradian
The Mercy College Baseball team has far surpassed their record from previous years and are on their way towards their first playoff run since 2010. The Mavericks are currently 19-21 over and 8-8 in conference play.
Leading the Mavericks is sophomore captain John Mooradian. Mooradian has been a baseball player since he could walk.
"I started playing baseball when I was four years old and I never stopped playing it, I loved it."
Mooradian was an accomplished overall athlete. Playing basketball and football in addition to baseball, Mooradian was not shy of competition and athletics. When it came down to choosing between one sport or the other, Mooradian was quick to make his decision.
"I liked football and basketball and played for a while, but with baseball I felt that I was better at it and I had way more fun playing."
When it came to motivation on the field, Mooradian found it in his close friends and his hard work.
"I played with my close friends and we always competed against each other. It made it fun and it was always nice to enjoy the game with them."
With college and future goals in mind, Mooradian knew that he didn't want to give up playing baseball. With a solid baseball squad and a strong nursing program, Mooradian found his home in Mercy and the Mavericks were lucky to have him.
"I couldn't imagine not playing baseball anymore so I knew I wanted to play in college," said Mooradian. "I found Mercy and I was grateful enough to be able to come to school here and play baseball while pursuing my nursing degree."
Mooradian hopes to be a Registered Nurse or a Nurse Practitioner in the future.
After coming off of a rough season last year, Mooradian was looking forward to a new year and a new season.
"Last year we had a tough year and didn't do as well as we wanted to. This season we really needed to find a way to mesh together and find the team's cohesiveness," said Mooradian. "It was time for us to start winning games."
With the addition of twenty five new players, the team was fresh and ready to make this season better than the previous few. However, they couldn't get to this point without their coaching staff, which had three newcomers of their own.
"Our new coaching staff has really made a difference with our team. The new coaches really stepped up this year and everything is run well and overall it makes it a lot better of an experience compared to last year."
With a new year comes new challenges. Nt only is the competition they face hard, but the mental grind of baseball proves to be a big challenge for Mooradian and the Mavericks.
"Learning how to lose a game and then come back from it is one of our biggest challenges," said Mooradian. "It's very easy to find yourself in a slump after losing game after game after game, but for us we just have to focus on coming back together as a team and getting the next game."
Co-captains with Mooradian are seniors John Young and Tyler Cinelli, and junior Joe Sadallah. Leadership plays a big role when it comes to success.
"Us captains are really different and we each have our own style of leadership," said Mooradian. "It works to our advantage when it comes to getting the team going."
The Mavericks are on track to making their first East Coast Conference Playoff berth since 2010. There are seven teams including the Mavericks that make up the ECC. For the playoffs, the Mavericks need to come in ranked at No. 4 or above in order to make the playoff run.
Coming in at 19-21, the Mavericks have already improved from their 10-32 season last year. Mooradian leads the team in hits with 51. Junior Joseph Sadallah leads the team in batting average with an average of .352. Leading the team in home runs is junior Adonis Garcia with 7. Coming in with 40 RBIs is junior Anthony Murphy.
The Mavericks take action next against the University of Bridgeport where they hope to continue onto the ECC Playoffs.
Leave a Comment
About the Contributor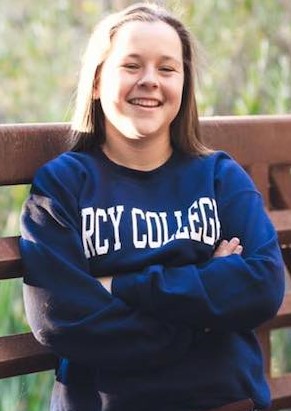 Jess Brandt, Sports Editor
Jess Brandt is a Media Studies major specializing in Journalism. She is from the wholesome town of Folsom located in beautiful Northern California. She...