Women's Basketball Building On Last Season's Improvement
After a season that saw the Mercy Mavericks Women's basketball team double their win total from the previous year, the Lady Mavericks look to carry the success of last year into the new season.
The team welcomes four new players to the team ahead of the 2018-19 season, all of which are freshmen. The new class of freshmen include Taysha Bender (Glen Burnie, Md.) , Alexis Lake (Lakeview, N.Y), Ashley Lambert (Staten Island N.Y.), and Brianne Santos (Elmont, N.Y.).
The four new comers look to help create an immediate impact on the upcoming season as they each bring a different skill set to the table.
Lambert, Santos, and Bender are each guards with the ability to score the ball and Lake is a forward who also has a great scoring ability in the post, but is also a very strong rebounder and defender.
Not only will the basketball team consist of four new players, it will also consist of new coach.
Scott Lagas was named the new head coach of the team back in April and looks to help the team pick up where they left off last season.
Lagas was previously the head coach of the women's basketball team at Archbishop Molloy High School where he had a record of 130-65.
Among the players who are returning to the team include sophomore Amber Brown and junior Destinee Hall who were the teams leading scorers last season averaging 13.3 points per game and 9.9 points per game.
Also returning to the team for her final season is senior Cynthia Perez as well as juniors Abigail Collier and Holly Sanders, and sophomore Anna Zaborowska.
With the season coming up, the schedule for the women's team has been released and it includes 13 home games. The Mavericks will be playing home games at Mercy for the first time in two years since the gym had been closed for renovations causing them to play home games at various other schools across the Bronx and Westchester area.
The Lady Mavericks will have their first regular season game at home on Nov. 28 when they take on Felician University at 5 p.m.
After dropping an exhibition game to St. Francis College the Mavericks open up the season on Nov. 9 on the road when they take on Saint Michael's College.
Leave a Comment
About the Contributor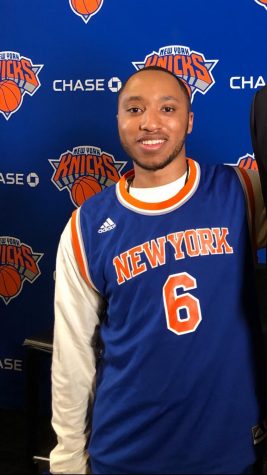 Ellis Joshua, Impact Staff
Ellis is a Senior Media Studies major who is looking to become either a sports writer or sports broadcaster after he graduates. He has a passion for writing...