Women's Basketball Victorious in Home Opener
The Mercy College women's basketball team defeated Felician University, 70-60, in their home opener on Nov. 28. It was their first home game in two years since the gym in Victory Hall had been closed for renovations.
Freshman Taysha Bender scored a game-high 18 points to help lead the team to victory. The team also got double-doubles from sophomore Amber Brown and freshman Alexis Lake. Brown recorded 16 points and also grabbed 10 rebounds while Lake scored 15 points and grabbed a game-high 12 rebounds.
The Lady Mavericks are now 3-3 on the season which is their best six game start since the 2014-15 season.
The Mavericks trailed 16-9 after the first quarter due to a 9-0 run by Felician and shot just 22.2 percent from the field. After cutting the deficit to five, Felician took an 11 point lead courtesy of an 8-2 run. Every time Mercy came within a few points, Felician always seemed to have an answer. After a Bender jumper with 43 seconds remaining in the half, Mercy headed to the locker room, down by nine at halftime.
The second half of the game was completely dominated by the Mavericks. After both teams exchanged three pointers to start the third quarter, the Mavs went on a 10-0 run to take a one point lead for the first time since the middle of the first quarter. Although Felician would respond and retake the lead by five, the Lady Mavericks wouldn't quit and by the end of the third quarter they had a one point lead.
Mercy controlled the fourth quarter as they would go on to score the first 12 points of the quarter to take a 13 point lead and they never looked back. The Mavs led by as many as 15 and they went on to outscore Felician 49-30 in the second half getting them a 70-60 victory.
Leave a Comment
About the Contributor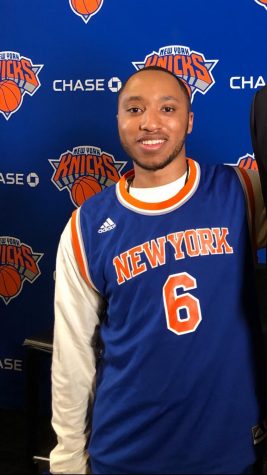 Ellis Joshua, Impact Staff
Ellis is a Senior Media Studies major who is looking to become either a sports writer or sports broadcaster after he graduates. He has a passion for writing...