Men's Basketball Battles Valiantly; Falls Just Short Against No. 25 STAC
Bryan Griffin and Sal Barbetto shine in loss
The 6-12 Mercy Mavericks men's basketball team lost a nail bitter to the 16-4 Spartans, despite a season high 20 points from Sal Barbetto and a double double from Sophomore Bryan Griffin.
The Mavericks were hot and 0n a two game winning streak until that was snapped in a 74-71 loss to St. Thomas Aquinas. In 37 minutes of play, sophomore forward Bryan Griffin was fantastic. He had 22 points, 7 blocks, and 12 rebounds. He was all over the floor for the Mavericks scoring and grabbing rebounds at will. Not to mention the seven rejections on the defensive end helped keep the Mavericks in the game.
Sal Barbetto shot an efficient 7-for-14 from the floor and was also able to dish out six assists. Tawayne Anderson Jr. added an efficient 12 points on 5-for-8 shooting for the Mavericks. On the other side of the ball, St. Thomas Aquinas was led by Kameron Murrell, who had a team high 15 points.
Mercy started off strong and jumped out to an early 7-0 lead. Barbetto accounted for all seven of the Mavericks points, which indicated he was primed for a big night. The Spartans answered and went on a commanding 12-2 run. The Spartans lead 24-17 at the 9:10 mark of the first half but Mercy was still hanging around. The Mavericks answered with a run of their own and went up 39-32. The Mavericks went into the half with a slim six point lead.
This time the Spartans came out firing scoring the first five points of the second half. Every time the Spartans tried to pull away, the Mavericks would go on a little run of their own. Griffin sliced his way into the paint which capped off a 9-3 run for the Mavericks in the third quarter. Later in the second half, th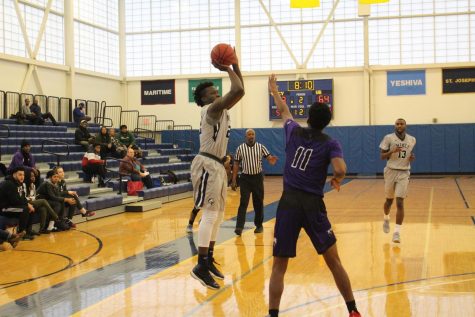 e Spartans tied the game at 62 a piece with 5:52 left it the game. Barbetto was able to give the Mavericks a slim 69-65 lead, but it did not last because of a 7-0 run from the Spartans. Griffin was able to cut the lead to one but then Mercy had to result to fouling in hopes of a missed free throw. Kameron Murrell made both free throws which made the score 74-71. Griffin attempted a three pointer to tie but it did not fall.
The Mavericks have not had the season they had hoped for but a two game winning streak and a loss against the 25th ranked Spartans showed for some promise and fight. Head coach Michael Maczko and his team will look to continue this effort Saturday against District of Columbia at 2 p.m. on Feb. 2.
Leave a Comment
About the Contributor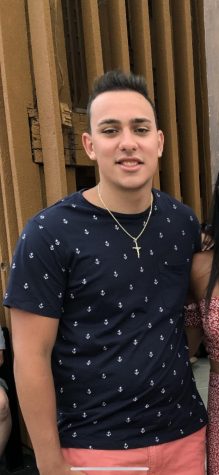 Michael Panteleo, Impact Staff
Michael Panteleo is a senior and studies journalism at Mercy College. He enjoys writing, watching, and playing football and basketball. He is a member...