Griffin Stays Hot but the Mavericks Fall Short to Bridgeport
Five Mavericks Post Double Figures in Loss
The Mavericks have had a tough stretch of games and have dropped three games in a row, after there 86-73 loss to their foe Bridgeport. If they want to make the final sixth spot of the ECC tournament, they need to start winning some basketball games.
The Mavericks now sit at 6-14 and Bridgeport improved to 12-10 after Wednesday's game.
Sophomore forward Bryan Griffin continued his hot streak and the led the game in scoring with 17 points and also added two blocks on the other end. He shot an efficient 50 percent from the floor but it was not enough to secure the victory. Mercy also got contributions from senior guard Amir Atkins, who scored 14 points. Guard Tawayne Anderson Jr. did a little bit of everything for the Mavericks, scoring 12 points and grabbing 7 rebounds while dishing out 4 assists.
Bakary Camara lead Bridgeport in scoring with 14 points on the night.
Mercy struggled early on giving up a 9-0 run to start the game. After a time out, they fired back with six straight points making the score 9-6 with 17:32 on the clock. Both teams went back and fourth for most of the first half and the score ended up being 26-25 with a little under six minutes in the first half. Bridgeport eventually was able to pull away and closed the half with a 8-0 run making the score 41-32 heading into halftime.
Mercy was able to go on a commanding 13-5 run coming out of the first half and cut the lead to three points making the score 48-45. The game became a game of runs and the Purple Knights answered Mercy's run with a 11-4 run pushing the lead to double digits with 12:53 left to play in the game.
An Anderson layup was able to make the score a five point deficit for the Mavericks making the score 61-56. Every time Mercy inched closer, Bridgeport pulled away making the lead 68-58. Mercy was able to cut the lead to seven but Bridgeport had the last 8-2 run which won them the game. Bridgeport was able to lead by double figures for the rest of the game which secured their thirteen point victory.
Mercy shot a decent 47 percent from the field and 41 percent from three point range. Bridgeport and efficient 55 percent and capitalized off 25 Maverick turnovers. Feb. 13 at 5.p.m. against Queens will be the next chance the Mavericks have to end this losing streak.
Leave a Comment
About the Contributor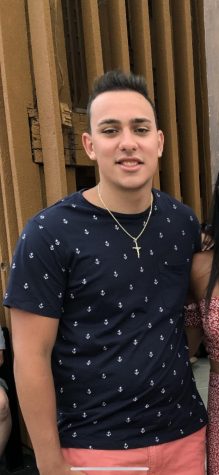 Michael Panteleo, Impact Staff
Michael Panteleo is a senior and studies journalism at Mercy College. He enjoys writing, watching, and playing football and basketball. He is a member...