Mens Lacrosse Stay Unbeaten With a Victory Over the College of Saint Rose
Bobby Chillianis stays hot and becomes the third player to join an elite 100 goal club.
Mens lacrosse stay hot as freshman midfielder Jack Gibbons scored a game high seven points on the day giving the Mavericks a 13-9 victory. Mercy is 4-0 for the first time since 2013 and are on a roll.
It was the first game for the Golden Knights, and they opened up their season with a loss.
Gibbons was able to score on six assists and one goal as well in the game. Senior attacker Bobby Chillianis continued his excellent season with three goals and an assist. His goals also were able to put him in the 100 career goal list at Mercy. He is only the third Maverick to achieve this goal. Freshman attacker JoJo Janavey had three goals on the day as well for Mercy. Senior goal keeper Ryan Gibbons had fifteen saves on the day which helped the Mavericks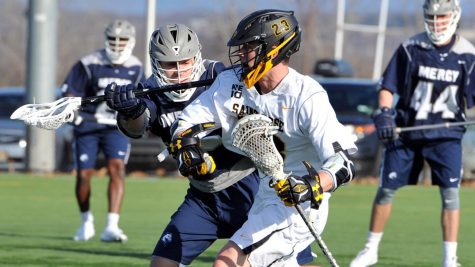 secure a close game victory.
For Saint Rose, John Loughlin and Jordyn Marchiano both recorded three goals. Matthew Gill made seven saves on the day in spite of the loss.
Mercy started the game off strong with three straight goals. Saint Rose were able to get back in the game after a 2-0 run to make the score 3-2 to end the quarter. The Mavericks then went on a run of their own scoring four straight goals making the score 7-2 at the halfway mark. Janavey and Scorcia were able to get in the scoring column as Gibbons set them up with assists. Mercy continued their scoring rampage and made the score 10-2 with 11:53 left in the third period of action. Saint Rose answered with a goal cutting the lead to seven goals. Mercy did not stop scoring making their lead nine with 8:42 left in the period. Saint Rose responded a little bit ending the quarter with three goals. The Golden Knights scored the final two goals of the game but it was not enough to overcome Mercy's strong third quarter.
Shots were even at 41-41, but Mercy held a slight 35-33 edge in ground balls and went 10-of-25 on faceoffs. Head coach Jordan Levine and his undefeated team will look to make it 5-0 Saturday March 2nd against Southern New Hampshire at 2pm.
Leave a Comment
About the Contributor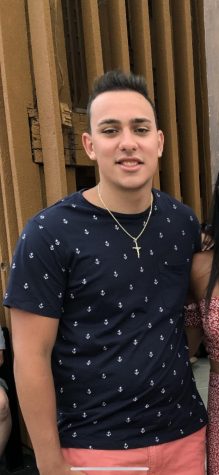 Michael Panteleo, Impact Staff
Michael Panteleo is a senior and studies journalism at Mercy College. He enjoys writing, watching, and playing football and basketball. He is a member...