Isnardi's 11 Goals sets School-Record as Mavericks Improve to 4-0
Women's Lacrosse improves to 4-0 powered by Isnardi's school-record 11 goals.
Led by senior midfielder Hunter Isnardi's record setting eleven goals, the Mercy Mavericks women's lacrosse team defeated Southern New Hampshire University by a score of 18-12 to improve to 4-0 on the season.
Isnardi scored 10 of her 1 goals in the first half and was only four goals shy of tying the NCAA Division II record for goals in a game. Isnardi finished the first half scoring all of the Mavericks goals and outscored the entire Southern New Hampshire team by four goals.
The Mavericks opened up the game with Isnardi giving the Mavericks a 1-0 lead just over three minutes into the game. After Southern New Hampshire responded with two straight goals, Isnardi flipped the switch and reeled off four straight goals with sixteen minutes left in the first half giving the Mavericks a 5-2 lead.
A competitive first half saw the Mavericks needing each and every one of Isnardi's goals as a three goal lead for the Mavs was cut to one after Isnardi scored her sixth goal of the half.
After pushing the lead back to two with her seventh goal of the game, Southern New Hampshire once again responded making it a one score game again before Isnardi finished the first half on a tear. Isnardi scored three straight goals to close out the first half giving the Mavericks a 10-6 lead at the break.
Her ECC and school-record setting eleventh and final goal of the game came just under five minutes into the second half with the Mavericks firmly in control and on their way to their fourth straight win to remain undefeated on the season.
Isnardi scored six of her eleven goals unassisted and also ended the game with a game-high ten draw controls as, five caused turnovers as well as three ground balls.
The offensive clinic put on by Isnardi led to her receiving IWLCA Division II Offensive Player of the Week.
In total the week saw Isnardi post fourteen goals, fifteen points, fifteen draw controls, and cause seven turnovers.
The Mavericks will put their 4-0 record on the line when they take on Assumption College Sunday, Mar 10 at 1 pm.
Leave a Comment
About the Contributor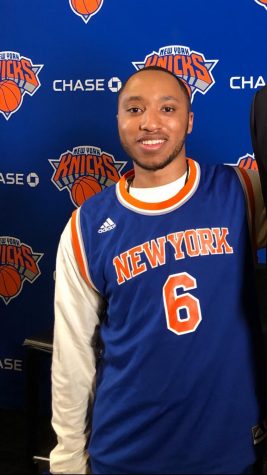 Ellis Joshua, Impact Staff
Ellis is a Senior Media Studies major who is looking to become either a sports writer or sports broadcaster after he graduates. He has a passion for writing...