Men's Lacrosse Improves To 7-0 For The First Time In Program History
Senior Ryan MacSpadyen nails a game winning goal to give the Mavericks and 8-7 victory.
A late goal by Senior midfielder Ryan MacSpadyen gave the Mavericks a one goal victory against Lake Erie College, 8-7, allowing for the best start in program history.
MacSpayden led the game with four points scored. He had two goals and two assists on the day. Senior attacker Bobby Chillianis had a nice day scoring two goals and also added an assist. Freshman attacker JoJo Janavey had two goals and midfielder Jack Gibbons added a goal and two assists on the day. Senior goal keeper Ryan Gibbons made nine saves which helped the Mavericks secure a victory.
Kyle Barna had a team-high three points scoring one goal and two assists for Lake Erie (0-3). Conor Sharkey had 12 saves for his team despite the loss.
Attacker Tommy McPartland got the scoring started with an unassisted goal with 11:37 left in the first quarter for Mercy (7-0). The storm fired back with three straight goals to go up 3-1 with 4:52 remaining in the quarter. Chillianis was able to get on the board which cut the lead to one to close out the first quarter. Mercy was able to tie the game in the second quarter but Lake Erie shortly regained the lead with a John Kezerian goal. Attacker Bobby Chillianis got his second goal of the game which left the score tied at 4-4.
The storm started of the third quarter strong and took a 6-4 lead with 3:31 left in the third quarter of play. JoJo Janavey responded with a goal but the Mavericks were down by one heading into the final quarter. Janavey continued his impressive day tying the game for the Mavericks. MacSpadyen then gave the Mavericks the lead with 7:37 left remaining in the game. He scored another goal shortly after which gave the Mavericks some breathing room and a two goal lead. Lake Erie was able to net one more goal but Ryan Gibbons was able to make a key save which helped his team secure the win.
Mercy held a 45-26 edge in shots and a 25-23 edge in ground balls. Head Coach Jordan Levine and the Mavericks look to keep the streak alive on Saturday, March 16th when they host Roberts Wesleyan at 11 a.m.
Leave a Comment
About the Contributor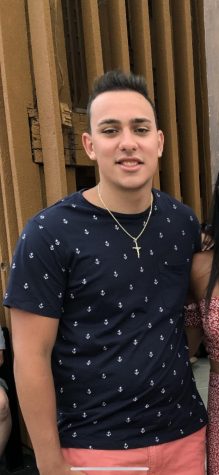 Michael Panteleo, Impact Staff
Michael Panteleo is a senior and studies journalism at Mercy College. He enjoys writing, watching, and playing football and basketball. He is a member...