Women's Lacrosse Comes Up Short In Overtime Battle Against Bentley
The Mavericks fall to 4-2 in an overtime battle against Bentley.
In this game, four seconds made the difference.
The Mercy Mavericks women's lacrosse team lost a lead with four seconds left and suffered their second defeat of the season in to Bentley in overtime, 9-8.
The Mavericks were four seconds away from improving to 5-1 on the season, but a late goal from Bentley would tie the game and force overtime where they would go on to defat the Mavericks by a score of 9-8.
Senior midfielder Hunter Isnardi scored a team-high three goals as Mavericks fall in overtime against Bentley University.
Despite the loss, Isnardi also recorded a game-high nine ground balls and ten draw controls.
The beginning of the game saw Mavericks get off to a strong start as they got out to a 3-0 lead in the first ten minutes of the game with the first goal scored by sophomore Briana Corace as well as goals from Isnardi and Freshman Kaitlyn Grzelaczyk.
After Bentley got on the board, the Mavericks went on to build a five-goal lead in the first half, scoring three straight goals coming from Isnardi, and attackers Katherine Sanchez and Casey Shimborske.
With a response from Bentley, the Mavericks went into the break up 6-3.
The second half was a competitive battle between both teams with the Mavericks and Falcons upping the tempo.
Sophomore Briana Corace scored her second goal of the game to maintain a three goal lead before the Falcons reeled off three straight goals of their own to tie the game at 8-8 with just four seconds left.
The overtime saw the Falcons score the winning goal less than a minute into the period on a free position shot to win by a score of 9-8.
With the loss, the Mavericks dropped their second straight game to a nationally ranked team and fall to 4-2 on the season.
Both teams recorded 30 shots and the Mercy had a slight edge in ground balls at 27-26.
The Mavericks will look to stop the two-game skid when they head on the road to take on Georgian Court University Wednesday Mar 20 at 3 p.m.
Leave a Comment
About the Contributor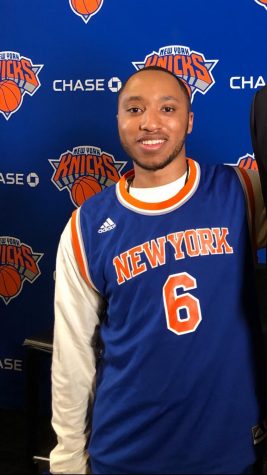 Ellis Joshua, Impact Staff
Ellis is a Senior Media Studies major who is looking to become either a sports writer or sports broadcaster after he graduates. He has a passion for writing...