No. 3 Men's Lacrosse Defeats Dominican 18-6 to Improve to 12-0
Ryan MacSpayden leads game in scoring and helps secure victory.
Senior Midfielder Ryan MacSpayden powered Mercy College as he lead the game in scoring with four goals and six overall points as Mercy defeated Dominican, 18-6. With this win, Mercy has tied the Mavericks record for wins in a season with 12.
Another Maverick that had a big day was freshman attacker JoJo Janavey, who had three goals on the day. Senior attacker Bobby Chillianis and junior attacker Tommy McPartland each had two goals and an assist on the day. Freshman Joe Poggio had two goals and an assist on the day. Junior Midfielder Antonio Rey went 11-of-15 on faceoffs and had a game-high nine ground balls. Senior goal keeper Ryan Gibbons had a nice day with three saves for the Mavericks.
Dominican was led by Lorcan Teahan and Luke Martini, who had a team-high two goals each.
Mercy started off the game in full control leading 6-0 after the first quarter of play. Eventually, this lead grew to 10-0 with 11:20 left in the half. Janavey and MacSpayden got into the scoring column first for the Mavericks which set the tone for the game. Poggio, Chillianis, MacSpadyen, and Janavey scored four goals in a row to open the second quarter which gave the Mavericks their commanding 10 goal lead. The chargers showed a little life scoring two straight goals but attacker Dominic Scorcia was able to give the Mavericks one more goal to close out the half 11-2 in favor of Mercy.
Mercy opened the second half scoring four straight goals making the score 15-2. Dominican struck back again scoring two goals back to back. After three quarters of Mavericks mercy went up 17-4 which pretty much sealed a victory. Dominican scored the first goal of the fourth quarter but midfielder Ricky Marchelos scored a goal with 10:15 left in the game. The Chargers netted home the final goal of the game with 8:12 left in the game but Mercy was able to hold out for the victory. Mercy held a 49-24 edge in shots and a 54-32 advantage in ground balls. The Mavericks won 16-of-28 faceoffs.
Mercy and head coach Jordan Levine will have a tough task ahead of them as they play April 6 when they play at NYIT at 3 p.m.
Leave a Comment
About the Contributor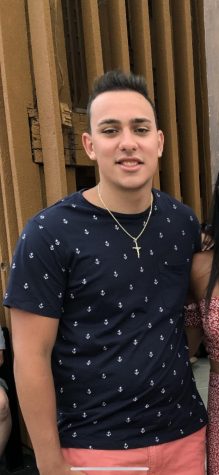 Michael Panteleo, Impact Staff
Michael Panteleo is a senior and studies journalism at Mercy College. He enjoys writing, watching, and playing football and basketball. He is a member...