No. 3 Men's Lacrosse Sets New School Record for Wins in a Season
Scorcia Has Game-High Seven Points as Mavs Win 20-7 vs NYIT
Attacker Dominic Scorcia scored seven points as the No. 3 ranked Mavericks won in a blowout 20-7 against NYIT this week while setting the men's lacrosse team record for wins in a season.
This was also the first time the Mavericks won against NYIT in school history.
Scorcia led the charge with five goals and two assists. Senior attacker Bobby Chillianis had a nice day scoring three goals and two assists. Freshman attacker Jack Gibbons also had three goals and two assists. Senior midfielder Ryan MacSpadyen had two goals and three assists in the game. Junior midfielder Antonio Rey went 17-of-22 on faceoffs with four ground balls. Senior goal keeper Ryan Gibbons had a busy day with nine saves on the day.
NYIT was led by Matt Murphy, who had a team-high three goals on the day. John DeFeo made 15 saves for the Bears as well.
The Mavericks started the scoring with goals by Scorcia and Gibbons leading the Bears 2-0 with 12:44 to go in the first quarter of action. The Bears fired back scoring three straight goals to take a 3-2 lead on the Mavericks. Mercy answered with three goals themselves and was able to have a 5-3 lead going into the second quarter.
Mercy then went on a scoring rampage and scored ten straight goals to take a commanding 15-3 lead with 1:46 left in the first half. MacSpadyen, Scorcia, Gibbons, Poggio and Chillianis all were apart of Mercy's dominant run. The Bears were able to get one goal on the board making it 15-4 at the half.
In the second half the Mavericks went up 18-4, continuing their scoring and securing the victory. NYIT scored two straight goals to make it 18-6. Shortly after, attacker Tommy McPartland ended the period with a goal to make the score to 19-6 after three quarters. Each team scored one more goal but the Mavericks ended the game with the victory.
Mercy held a 54-33 edge in shots, a 32-21 edge in ground balls and went 20-of-28 on faceoffs. Head coach Jordan Levine and his undefeated team will look to keep their historic season alive on Saturday, April 13th when they host Mercyhurst at 1 p.m.
Leave a Comment
About the Contributor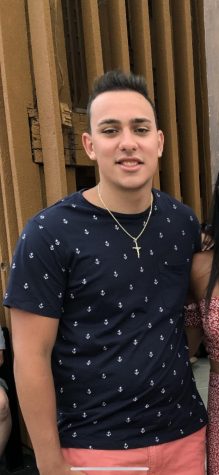 Michael Panteleo, Impact Staff
Michael Panteleo is a senior and studies journalism at Mercy College. He enjoys writing, watching, and playing football and basketball. He is a member...