Men's Lacrosse Wins First Ever ECC Championship off a Game Winning Goal by Bobby Chillianis
Men's Lacrosse Earns First Ever ECC championship and NCAA Appearance.
Mercy College's N0.1 seeded men's lacrosse team earned it's first ever ECC championship against No. 2 seeded LIU Post university, off a game winning goal from senior attacker Bobby Chillianis in the final seconds on May 4 in Dobbs Ferry.
With under twenty seconds left, Mercy trailed by a score, but Luke Baron tied the game off a turnover and Chillianis won it moments later to give the Mavericks their first appearance in the NCAA tournament.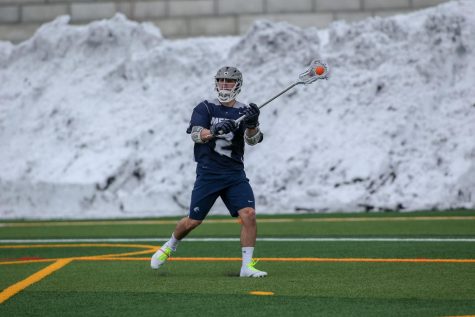 Mercy won the game, 11-10, and have beaten Post twice on the season. This is something Mercy has never done. The Mavericks are now hot as ever and are currently on a four game winning streak heading into their matchup against Seton Hall University on May 8 at 3 p.m..
Bobby Chillianis continued his impressive season by scoring two goals and also two ground balls. He also scored the game winning goal with only four seconds left in the game to secure the victory. Junior attacker Tommy McPartland and freshman attacker Joe Poggio both had three points on two goals and an assist in the game.
Poggio was the hero for Mercy the previous game with six points and continued that play on Saturday.
Senior defender Anthony DeCeglia led the team in caused turnovers with three. Senior goal keeper Ryan Gibbons had a great game saving fifteen shots for Mercy.
Nick Grassa led the game with three goals and Bryan Ochs made 18 saves in the loss for Post.
The game started out slow as both teams did not score a goal after eight minutes of action. The Pioneers struck first and scored a goal with 7:41 left in the first quarter. Shortly after the Mavericks answered evening up the score 1-1. Tommy McPartland scored the final goal of the first quarter which gave Mercy a one goal lead.
Joe Poggio and sophomore attacker Dominic Scorcia came out in the second quarter and scored back to back goals giving Mercy a 4-1 lead.
Post then went on a scoring run scoring five unanswered goals making the score 6-4 at the half in favor of Post.
Post scored first in the second half increasing their lead to three. Joe Poggio then scored a goal which made the score 7-5 with 11:33 remaining in the third. Post then responded pushing their lead back up to three. Mercy was able to score one more goal cutting their deficit to two in the final quarter.
Mercy got some momentum in the fourth by scoring two goals making the score tied at eight a piece with 10:20 remaining in the seesaw affair. Post would then gain the lead but senior midfielder Ryan MacSpadyen came up big and tied the game with 6:48 left.
The score was tied at nine for a while, until the Pioneers scored a clutch goal with 1:43 left of action. With only seventeen seconds left senior midfielder Luke Baron took advantage of a Post turnover to tie the game. The Mavericks then won a faceoff due to a violation which allowed Bobby Chillianis to score the game winning goal with only four seconds remaining.
Shots and ground balls were even at 46-46 and at 39-39. LIU Post won 17-of-25 faceoffs.
Mercy will now host Seton Hall University Wednesday May 8 in the first round of the NCAA Division II Men's Lacrosse tournament. The game will be at Mercy field. Mercy has only one win against Seton Hall and have lost five. This is the Mavericks first ever NCAA tournament appearance in school history.
Ryan MacSpadyen was named this year's ECC offensive player of the year. He currently has 77 points and 38 assists.
Leave a Comment
About the Contributor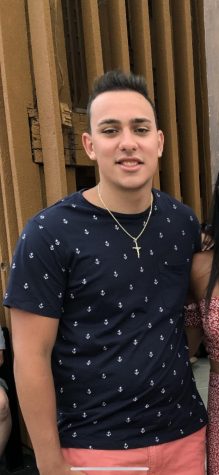 Michael Panteleo, Impact Staff
Michael Panteleo is a senior and studies journalism at Mercy College. He enjoys writing, watching, and playing football and basketball. He is a member...