Last-Second Goal Sees Field Hockey Defeat Molloy
Savanna James scores her first collegiate goal in style.
Late game drama endured as sophomore Savanna James' last-second goal propelled the Mavericks Field Hockey team to a 2-1 victory over conference rival, Molloy College, on Sept. 25.
The Mavs now stand at 2-4.
This was her first goal scored for Mercy, and it was the biggest goal of the season so far for the team.
Junior forward Brooke Anthony scored the other goal for Mercy. Senior midfielder Kaylee Organista added an assist for the Mavericks.
For Molloy, Kyra Dalli scored their only goal. Ally Saigh had a strong showing with four saves.
The first shot on goal did not come until ten minutes deep in the game. Saigh was able to save James' first shot from going in. After the save, Anthony scored, giving the Mavericks a 1-0 lead.
The score remained 1-0 for a while until Molloy responded evening up the score at 1-1 to end the half.
There was not much scoring in the second half either, as it remained tied with 20 seconds left. James fired a shot but Saigh was able to save it from going in, but on the rebound, James recovered and knocked in the game-winning goal for the Mavericks. The Lions ran out of time, making the Mavericks victorious.
Molloy had a 9-8 edge in shots and an 8-2 edge in penalty corners.
Next up for Mercy is a game against American International at 7 p.m. Wednesday, October 2nd. Head coach Morgan O'Donohue will look to keep her team hot heading into Wednesday night's showdown.
The last matchup against American International Mercy won 2-1. They have a 2-4 record against them heading into this game. Mercy has scored five total goals against them. The Mavericks have seven goals this season and 84 saves.
Leave a Comment
About the Contributor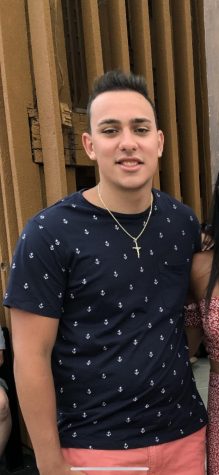 Michael Panteleo, Impact Staff
Michael Panteleo is a senior and studies journalism at Mercy College. He enjoys writing, watching, and playing football and basketball. He is a member...