Trista Seara Ready to lead Women's Soccer to National Gold
Trista Seara has been the captain of the women's soccer team at Mercy since her junior year.
Now in her final season, she wants to go out with a bang.
Trista has been in love with soccer since the first day she laid eyes on the sport.
"My parents had thrown my older brother into a little kid's league that was local and they fell in love with the sport, so once I got my chance to shine, they signed me up," said Trista, who was a standout player in her community of Lyndhurst, New York. She played for Farmingdale Soccer Club as a youth, and when she made it to high school, she exploded onto the scene. She accumulated All-County, All-State and All-Conference selections for Lyndhurst High School. In her senior season at Lyndhurst, she was the leading goal scorer on her state championship team.
Growing up in the the early 2000s, Trista fell in love with the Spanish club team from Barcelona. But more importantly, she fell in love with a player.
"When I was growing up, my idol was David Beckham. Every season I made sure I got his boots and would do all my school projects on him!"
Beckham is now retired, but her favorite team is still Barcelona.
"They play the most beautiful game. Their style is just incredible. They turn sport into art, and I've always tried to reflect that style in my own game. I'm no Ronaldinho or Messi, but I love the tiki-taka style of the sport."
She's been a mainstay at the LB position at Mercy since she stepped on campus in 2016; starting 60 of her 63 games played in a Mavericks jersey. She usually always has been an attacking-minded defender.
"I was recruited as a forward and have always been a forward until my first year of college. Our previous coach, Johnathon Feinstein, put me in the back and always expected me to become an offensive threat reflecting the style of some of the best outside backs like Jordi Alba, Dani Alvez, and Marcelo."
This has led her to an outstanding start for her offensively to start the season. She has already doubled her goal tally from last year with four goals and has 10 points total.
While many ask what has changed, she shakes her head. "Nothing changed with the team. Rather, I'm just hungry this year to get on the scoreboard and be more involved in the attacking half of the field."
Going into the season expectations are high on this team, going to the NCAA tournament two of the last three years, they're looking to make another run at a national title. Looking back on 2017 when the team made a Cinderella story run to the final 4. Trista has some fond memories.
"Making the final four sophomore year was something straight out of a movie. We were just some small team from a small school getting flown out to Missouri and being treated as royals. Everyone felt special! There was so much school pride and people supporting us, it was a feeling I will never forget!"
The team is currently 5-2 and 1-1 in the conference.
As the captain, Trista has an attitude she hopes reflects on everyone. She wants her teammates and her to play every game like it's your last.
"My goal for the team is to just never give up. Take every game as they come and never give up. Do whatever it takes to come off that field with a win. Personally, my goal is to never feel disappointed. I don't want to ever get off the field and think, 'Damn I could've gone a bit harder.' I want to be crawling off the field every game if that's what it takes for us to get through to the next."
Now with years under her belt and two NCCA appearances, she has a theory for what it will take to get over the hump.
"I it takes a lot of heart…once you start getting to the final stages of the season, players get hurt, people are exhausted from school and work and still playing, and I think it would take a lot of heart to get over just that last hump."
So if all goes right for the Mavericks this year and everything goes to plan, they will win the D-II National for women's soccer. This would mean everything to the team, the school, the community and most importantly the captain Trista. "To win the national title would be beyond words. I don't even know how to describe it. I just know I wouldn't stop talking about it for the rest of my life."
After she steps off the Mercy field one last time, her future is clear. National champion or not.
"I want to continue my career in the sport whether it's playing overseas or passing on my knowledge to the next generation!"
She said she'd go pro if the opportunity would present itself. "Of course, I would go pro! No doubt."
Looking beyond this season Trista has high hopes for this team with only five seniors graduating, including her. "I think for the future of this team Sydney Cooper is the next player to watch. She's incredible to watch and is one of my favorite players to play with. She is sure to win some big titles in her next years!"
Trista Seara has been at Mercy College for four years now, has started each of those years for this team. She has been awarded person awards like ECC Commissioner's Honor Roll (Twice), tabbed United Soccer Coaches First Team All-East Region, First Team ECAC All-Conference, Second Team All-ECC, and Third Team All-ECC accolades in just three years. Added that she and her teams have captured, ECC Title (2018) and 2 NCCA tournament appearances (2017, 2018) and a Final Four appearances (2017), with more to come in her senior season.
She would like her season to end with a national gold medal.
"I was named captain my junior year and got the opportunity to keep the badge my senior year. To me being captain doesn't change anything. It's just a badge and whether I had it or not, I would still be the same player and teammate I am today. I'm here to work hard, inspire and lift my teammates in the good times and the bad, with the badge or without it."
Leave a Comment
About the Contributor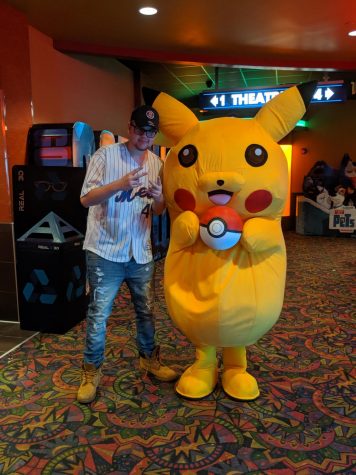 Dan Rebain, Impact Staff
Dan is a VERY TALL person, a sports enthusiast that can't stop talking about FOOTBALL, HOCKEY, BASKETBALL, SOCCER, and MMA. Also, he's making jokes on...