Recently-Drafted MacSpadyen Makes Athletic History for Mercy
Following a lifetime of work for Mercy alumni Ryan MacSpadyen, which included a decorated career for the Mavericks, his dreams came into fruition following his selection at the 13th pick by the Georgia Swarm in the National Lacrosse League Draft.
MacSpadyen started playing lacrosse at a very young age and he fell in love with the sport ever since.
"I started playing when I was five or six. I remember my dad cutting down one of his old lacrosse sticks for me when I first started."
It turned out to be a great decision for Ryan because now he is playing professional lacrosse.
MacSpadyen was born in Ontario, Canada, and he studied homeland security at Mercy College.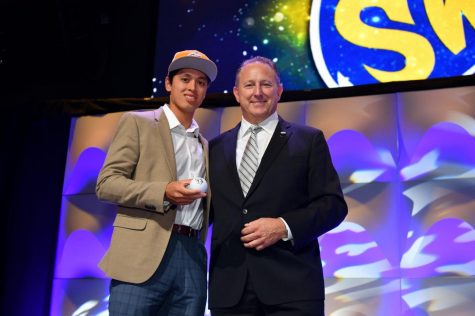 Ryan MacSpadyen had quite a four-year career at Mercy. His 239 points are second in program history. He had 106 assists and 133 goals this past season. Last, season for the Mavericks, he was ECC player of the year. Ryan was also chosen to play in the USILA Division I/II Senior All-Star Game. During his rookie season, Ryan won ECC Rookie of the Year.
MacSpadyen led Mercy to its first ECC championship in program history. The Mavericks also won their first NCAA tournament appearance in school history.
It was a great year for the Maverick that Ryan keeps on repeat in his memories.
"I will never forget when Bobby Chilliainis scored the game-winning goal to win the ECC championship with under ten seconds left."
Another memory that Ryan MacSpadyen will never forget was beating LeMoyne at home last season, which was a statement game. "It was a huge step for our program."
Mercy was not favored in this game, but they were able to pull off the victory 10-7. This victory started their historic 18-2 record that Mercy accomplished last season. They would win their next 11 games.
That set the tone for his long time goal of playing professionally, and he was able to achieve it with hard work and dedication.
"Ever since I was a little kid, I wanted to either play in the NHL or NLL."
Many people dream of earning a living in professional athletics. Few people achieve this goal, but MacSpadyen says that he did through sheer will. It did not come easy, but he practiced hard and trained hard every day to be where he is today.
With that drive comes his inspiration. His father has been a huge part of his athletic career.
"My dad used to play lacrosse for Team Canada and coached high-level lacrosse," he says. "I have been fortunate enough to have him in my corner helping me grow as a player and person."
Ryan's dad has been a big part of his life and athletic career and is part of the reason he is such an amazing athlete.
"I have to also include my mom because she helped me pursue my goal of playing lacrosse. She taught me how to work hard for something even if it seems out of reach, which can apply to any sport but for life."
His parents will continue to help Ryan into his professional career for the Swarm and in his everyday life.
Getting drafted by a professional sports team is probably one of the best feelings in the world, he says, and it is something that Ryan has worked for his entire life. "I am excited and honored to be a part of this great organization."
Ryan knows that getting drafted was a dream come true and now it's time to prove his worth. Ryan has clarified that he has one goal set in stone for this season as a pro. That goal is to help his team win an NLL championship. With his athletic ability and skill set, it primes him to do just that.
Aside from being the first player in program history, MacSpadyen also is an assistant coach for the Mavericks. It seems to be a match made in heaven for Mercy's lacrosse program. Why not have a former two-time All-American lacrosse player as a coach? Ryan is truly honored to have this opportunity, and he is grateful that coach Jordan Levine and Joe Corace have given him this opportunity.
"I thought it was important for me to give back to a program and a school that has given me so much. I remember all the good coaches when I was younger, they taught me how to handle myself as an athlete and a person."
Ryan will continue his professional career for the Georgia Swarm and look to win back-to-back championships to start off his career as a pro. He hopes to pass on some of this knowledge to the other players that come to this program.
"Work hard and keep forging ahead."
Leave a Comment
About the Contributor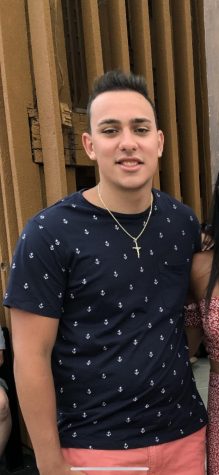 Michael Panteleo, Impact Staff
Michael Panteleo is a senior and studies journalism at Mercy College. He enjoys writing, watching, and playing football and basketball. He is a member...