Mercy Soccer Stays Hot Heading Into the Playoffs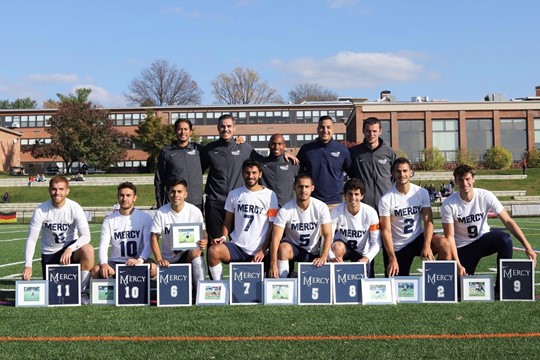 Mercy College men's soccer has now improved to 12-3-1 after a 4-0 victory over ECC rival Roberts Wesleyan College. Four different Mavericks scored in this game which moved them up to first place in the ECC standings. Their home record for the season will be 9-0-1 with only one away game left for the Mavericks to play.
Defender and midfielder, Rainiero Salas, scored a goal for the Mavericks alongside fellow defender, Archie Jones. Redshirt freshman, Steven Fernandez scored a goal as well. Goalkeeper, Joel Serrano had two saves for the Mavericks, and Jared Gibbons had six saves for Roberts Wesleyan.
The game was scoreless until the 39th minute of action when Mercy scored the first goal of the contest. The score remained 1-0 heading into halftime. Mercy had a commanding 10-2 edge on shots heading into the second half.
Mercy scored again in the 80th minute of action when Salas netted a goal. Mercy then scored two more goals in a shutout victory for their final home game.
For the game, Mercy had a 22-5 shot advantage. They also had a 9-3 advantage in corner kicks for the game.
The Mavericks have a 6-2 record with 23 goals against Robert Wesleyan.
The Mavericks will verse the District of Colombia in their last game on Nov. 9 at 1 p.m. This seems to be a fairly good match, as the Mavericks have a 6-5 record against them and have tied with them once before.
The Mavericks have scored 38 goals and recorded 41 assists this season. They average just over two goals per game. Midfielder Ignacio Mangada is leading the Mavericks with 20 points this season. Santiago Corral is not far behind with 17 points. The Mavericks will need these guys to keep it up as they head into the postseason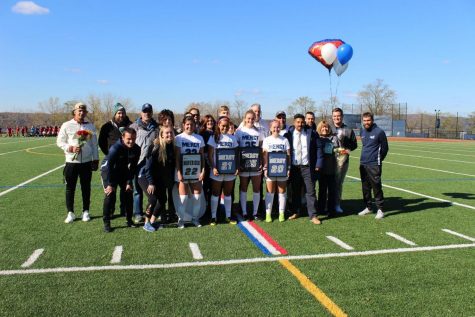 Women's soccer improved to an 11-2-2 record over a 2-0 shutout victory over Roberts Wesleyan. Senior midfielder, Jessica Brandt, and Sophomore midfielder, Anicia Reyes, each had a goal during that game. It was Brandt's second goal of the season and Reyes' first.
"Scoring on senior day is something I have dreamed about, and having my family there made it more special," Brandt shared.
"My dad had never seen me play in college until now. and this is something I'll remember for the rest of my life."
The Mavericks have gone undefeated at home with an 8-0 record. They are red hot with their two-game winning streak.
Despite their loss, Roberts Wesleyan's own Kelsey Brinkel had four saves.
The game was scoreless until the 33rd minute of action when Brandt fired a successful long-distance shot. This was the only goal scored in the first half which gave the Mavericks a 1-0 heading into the third quarter.
Reyes then recorded a goal in the 89th minute of action which pretty much sealed the game for the Mavericks. Mercy had the advantage in shots with 15-4 and a 6-0 advantage in corner kicks for the game.
Their next game will be Thursday against Goldey-Beacom at 2 p.m. The last time these two faced off, the Mavericks won 6-1. They have both won and lost against Goldey Beacom in the past.
The Mavericks have 25 goals scored on the season and have recorded 20 assists. They also have 55 saves for the year.
Both the men's and the women's soccer teams are at the top of their conferences with every intention to make a deep playoff run. One game is left for the men's team and two games are left for the women's team, as they look to end their season on a high note.
Leave a Comment
About the Contributor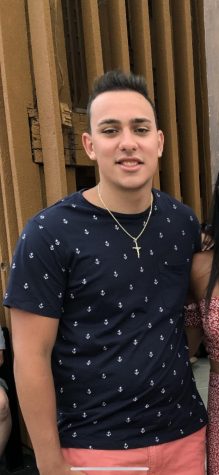 Michael Panteleo, Impact Staff
Michael Panteleo is a senior and studies journalism at Mercy College. He enjoys writing, watching, and playing football and basketball. He is a member...