Bryan Griffin Looks To Lead Men's Basketball To Unseen Heights
"If I was in NBA 2K, I would be a Post Scoring Glass Cleaner."
Mercy College men's basketball is back for another season and is looking to take the next step in developing a winning culture.
These are heights not reached by the program in 40 years.
Bryan Griffin, an emerging superstar for the Mavericks, says it's time to change that. Based on his play last season, he means business.
Last year, Griffin averaged 20.3 points, 11.5 rebounds and 1.0 assist per game. A massive uptick from the year prior where he averaged 3.8 points, 2.5 rebounds and 0.1 assists per game
That stat line earned Griffin major accolades for his personal success. He earned First Team All-Conference and other awards for his accomplishments last season.
"It meant a lot to me because I've been through a lot since I stepped foot on campus. I've had knee surgery and a bad concussion in my first season. So it means a lot to know they recognized me to be one of the best players in the conference."
Griffin committed to Mercy College in 2016 and he chose to be a Maverick because of the aggressiveness of the recruiting.
"Mercy was actually the first school to offer me a scholarship. They got the ball rolling for me. But also I think they believed in me the most. I also never wanted to go to a big school."
Also, being close to home for Griffin was a big factor in committing to Mercy, being from Pomona, mere minutes from Mercy College. "Being close was big for me, it allows my family to come to all my games."
Griffin has always been a helpful person, not just in basketball, that's why he chose Criminal Justice as his major at Mercy. "I wanted to help people. It's always the person I've been and how I was raised."
Griffin is looking to build on last season to not be a one-season wonder.
"It's motivation for me to stay at the top of my game but also be a better version of myself and work on the skills that I know can make me better."
Griffin also added that this isn't just physical issues he works on, but mental. What helped him perform the way he did last year was his concentration.
"I've always been a bigger guy, but just focusing every game that I have to be the best version of myself. But also in practice and even working by myself. I have to hold myself to a higher standard and the results will fall in line."
Griffin is a unique player in that he is excellent on both sides of the ball.
"I can shoot the ball as I lead the conference in 3-point percentage, but I do most of my work in the paint."
Griffin is a dominant force down low and it showed as he now holds the Mavericks' record for rebounds in a season with 300 (91 offensive and 209 defensive).
"I try to get offensive rebounds and keep the play alive, but I love getting defensive rebounds to get us from not playing defense so much."
And of course, he has thought about playing as himself in a sports video game.
"If I was in NBA2K, I would be a post-scoring glass cleaner," Griffin jokingly said.
Griffin, now in the record books, knows he now will be at this school forever. "It's good to know my name will be here forever. In high school, I never got to score 1,000 points as I was always injured, so to succeed in college makes me feel better that I can do it here."
Adding onto his rebounding, Griffin's presence on the defensive side of the ball is unmatched, averaging over two blocks and a half steal per game.
"I take pride in playing both sides of the ball. That's what separates the good players from the greats. Everyone loves scoring, but it's the extra effort to go block that shot or get your hand in there and get that steal. That could energize the team more."
Mercy coming into the 2019-20 season is a young and hungry team. Five players are freshman or sophomores, with only one senior. The underclassmen will look at Griffin for guidance.
One of his biggest experiences as a Maverick was traveling to South Bend and taking on Divison I juggernaut Notre Dame. Griffin took a lot from that experience. "I always said in high school I can play Divison I, but then when you play an ACC team and you know that's not the case. It's only for the best of the best."
"You understand how different it is, but not only the way they played but how they warmed up. It was different. It's like they treated themselves as pros already. It set a bar for me though, like I'm here and I want to get to their level."
Griffin, now in his fourth year at Mercy College, is ready to take the younger guys under his wing.
"I've been through everything here: the ups, the downs, everything. It shows me I was young before so I see a guy like Johnatan Lapierre who's 18 and has all the tools as I had, he just has to put them together. I could put everything together, so I'll be able to show the young guys how to."
The goals are plain and simple to Griffin, "Win the ECC Title," and "enjoy the year, everyone stays healthy, but win, win, and win."
"If I'm the best leader and best player I can be, everything will fall in line. But personally I want to win something, I want to put the first banner in the gym, and everything will fall in line."
But winning for Mercy basketball hasn't been around in almost 40 years, since the 1979-1980 season. This would top everything for Griffin if they break the streak. "It would be better than any award I could receive. An All-Conference or an All-Regional award. It would mean we've done something that hasn't been done in 40 years."
This season isn't just going to be what Bryan does on the court, but how the other players on the roster complement each other's game. Chemistry needs to be there. They need to have each other's back, on and off the court. If all these elements happen, they'll get results on the court. This will be the year they break the streak and get a winning record.
Griffin had something to add to that.  "I need everyone on campus, off-campus to come to our games. This season is going to be different and we need that support."
The Mavericks' first game of the season is Nov. 9 against Southern New Hampshire University. They will play all home games up in Victory Sports Complex, in the Victory building on the Dobbs Ferry campus.
Leave a Comment
About the Contributor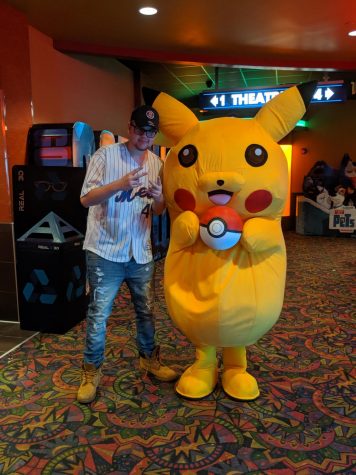 Dan Rebain, Impact Staff
Dan is a VERY TALL person, a sports enthusiast that can't stop talking about FOOTBALL, HOCKEY, BASKETBALL, SOCCER, and MMA. Also, he's making jokes on...