No. 6 Men's Soccer Loses 5-0 To No. 3 Charleston
Men's Soccer's Phenomenal Season Ends In The Second Round.
The Mavericks dropped a 5-0 decision to the University of Charleston on Saturday, Nov. 23. This was the second year in a row Mercy has lost in the NCAA Division II second round. Mercy finished with a (14-4-3) record and Charleston improved to (18-2-1).
Mercy won 14 games this year, which has been the most since 1986. This was also the first time the Mavericks have won the ECC championship since 2004. With this win, Charleston has won eight games in a row.
Senior midfielder, Maximilliano Rebolledo-Camus, had a shot on the goal for the Mavericks along with forward, Gaston Rozenblum. Senior forward, Santiago Corral, had a team high two shot on goals for the Mavericks. Junior goalkeeper, Joel Serrano, had a nice day with four saves recorded.
Christos Charalambous and Freddy Tracey each had a goal for the Golden Eagles.
The scoring did not come until the 37-minute mark when the Golden Eagles took a 1-0 lead. The score remained 1-0 for the first half of the action. Charleston had seven shot advantage after the first two quarters.
The second half score was 1-0 until the 59th minute of action when Freddy Tracey netted his second goal of the game, shortly after the Golden Eagles made another goal and took a commanding 3-0 lead.
Charleston was able to score two more goals that sealed the game. Charleston will now advance to the next round of the playoffs.
Charleston dominated the game in shots and had a 16-4 edge over the Mavericks. Mercy had a slight edge in corner kicks 5-3.
Ignacio Mangada led the Mavericks in scoring this year and had 22 points on the season. Santiago Corral was not far behind with a solid 17 points for the Mavericks.
Following a historical season, the Mavs will look to compete for another ECC championship next season.
Leave a Comment
About the Contributor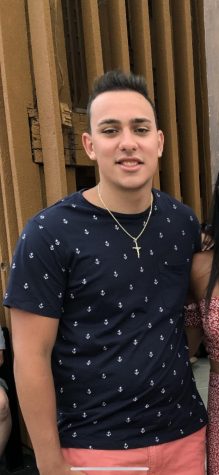 Michael Panteleo, Impact Staff
Michael Panteleo is a senior and studies journalism at Mercy College. He enjoys writing, watching, and playing football and basketball. He is a member...