Men's Basketball Loses Back-and-Fourth Battle Down in D.C.
The Mercy Mavericks Men's basketball team came up just short against the University of the District of Columbia. The Mavericks put up a good fight on the road down in D.C., but after losing 64-63, they have now dropped their fourth straight game. Mercy is now (4-16) on the season while UDC is now (9-12).
Mercy had three players score in double figures with junior forward Dayvon Cuffey leading the way with a season high 17 points. They also got 15 points from freshman Garrett Kirkland and 13 points from double-double machine Bryan Griffin, who also added 17 rebounds.
Mercy got off to a good start, leading by five points just over six minutes into the game. After UDC gained the lead with a 7-0 run, the Mavericks responded with a 7-0 run of their own to regain their five point edge. Mercy continued to hold a five point advantage, leading the game 19-14 with just over nine minutes remaining in the first half.
The first was a game of runs, as Mercy's lead did not last thanks to an 8-0 run by the Firebirds. Both teams went back and fourth exchanging leads. The first half saw a total of eight ties before UDC took a three point lead into halftime after a three point buzzer beater by Juanye Colon. This shot proved to be critical later in the game.
After coming slow to start the second half, Mercy quickly fell behind by six. The Firebirds lead would grow to as large as nine points, but the Mavericks did not quit and got right back into the game. Mercy went on a massive 12-0 run to retake the lead.
The lead that Mercy had was short lived, as the UDC went on a 9-2 run of their own take a five point lead with just over five minutes left in the game. Once again the Mavericks showed their resiliency and went on an 8-2 run to grab 63-61 edge with just under three minutes left in the game.
Mercy went cold down the stretch and were unable to score the rest of the way. A three pointer by Aaron Smith put UDC up for good.
Mercy shot 39.6 percent from the field while UDC shot 37.5 percent. The Mavericks had a 42-34 edge in rebounds. The next time the Mavericks take the court will be Saturday Feb 8 when they host New York Tech, where they will look to snap their four game losing streak.
Leave a Comment
About the Contributor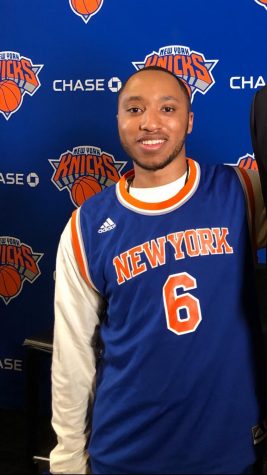 Ellis Joshua, Impact Staff
Ellis is a Senior Media Studies major who is looking to become either a sports writer or sports broadcaster after he graduates. He has a passion for writing...