Mercy Baseball Splits With Barton in Opening Doubleheader
Mercy Baseball started their season off down south against Barton College on Saturday in an early afternoon doubleheader. The Mavericks got shutout in game one, but ran it back a second time and got the victory in game two.
Game one: Barton 4, Mercy 0 (seven innings)
For the first four innings of game one, it was a pitcher's duel as Mercy senior, James Jakuba, and Barton freshman, Gentry Fortuno, both had four shutout innings. In the fifth inning, Jakuba gave up four runs as his day ended and freshman, Kevin Seckler, came in for his relief. Jakuba recorded seven strikeouts in the five innings he pitched.
On the hitting side, freshman third baseman, Nolan Giblin, made his first hit as a Maverick while he got a leadoff single to start the fifth inning. Some other notable players to record a hit in game one were first basemen, Anthony Murphy, second basemen, Miguel Ortiz Sanchez, and catcher, Francisco Paulino.
Barton took the win in game one as Fortuno pitched a full seven-inning shutout and first baseman, Mike Mayer recorded two RBIs.
Game two: Mercy 8, Barton 6
The Mavericks were a different team in game two. Through two scoreless innings, the Mavericks finally found life in the third, when freshman, Justin Glennerster, led off the third inning by hitting a double and eventually scoring off a wild pitch to make it 1-0. Sanchez had the hot bat as he went 2-5 with two RBIs while Giblin continued his first day on the job going 2-4 and recorded his first RBI of the year.
Junior pitcher, Jack Kelly, received his first win on the year after a performance where he pitched six innings, recorded four strikeouts, and only gave up four runs. Senior, Andrew Hernandez, closed the game out as he got his first save on the season contributing to Mercy's first win of the year.
Mercy also played another doubleheader on Sunday but lost both games. The Mavericks fall to 1-3 on the season.
Leave a Comment
About the Contributor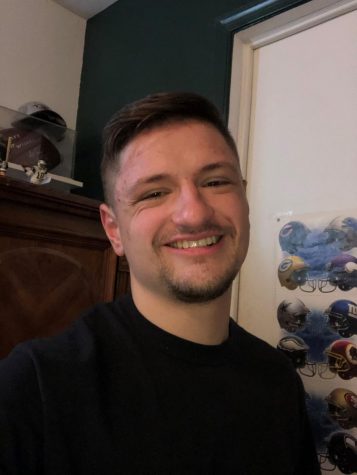 Alex Wendling, Impact Staff
A die-hard sports fan who is eager to learn more about the sports media industry. His dream is to one day work for a big sports news outlet. He is a die-hard...