Women's Lacrosse Win's Eighth Straight Season Opener
Mercy opens the 2020 season with an impressive 12-6 road victory.
Led by sophomore goalie, Madeline Garvalosa's career-high 18 saves, and three goals from senior midfielder, Brittani Sergio, the Mavericks opened their season with a 12-6 win over Southern New Hampshire University. Garvalosa earned her first collegiate win in her debut as the starting goalie.
The Mavericks got off to a quick start right out of the gate by scoring four goals in the first twelve minutes of the game. Sophomore attacker, Taylor Bishop, was the first to put Mercy on the board, followed by a goal from Sergio. After junior attacker, Casey Shimborske, added a goal to put Mercy up 3-0, Sergio scored her second goal of the game to give Mercy a 4-0 lead.
Following a goal by the Penmen, the Mavericks increased their lead to six with three straight goals coming from the duo of Bishop and sophomore, Erin Chalich. After two more goals scored by the Penmen, Mercy closed the first half up 7-3.
The second half saw Mercy start by scoring four straight goals. With an 11-3 lead, the Mavericks were in complete control. While the offense was on full display, Garvalosa was anchoring the defense. Of her 18 saves, 12 of them came in the second half which helped Mercy keep a comfortable lead.
Mercy got goals from Shimborske and Chalich as well as Katherine Sanchez and Juliana Keenan in the second half. After the Penmen cut the Mavericks lead to five, Sergio closed it out by scoring her third goal of the game to give her a hat-trick and seal the deal for the Mavericks.
Despite Southern New Hampshire holding the edge in shots (27-20), ground balls (28-26) and draw controls (12-8), it was not enough to overcome the complete team effort of the Mavericks.
The number 12 ranked Mercy is looking to improve to (2-0) when they continue their road trip at Bentley University on Saturday, Feb, 29 at 2:30 p.m.
Leave a Comment
About the Contributor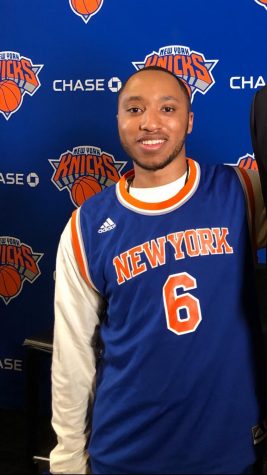 Ellis Joshua, Impact Staff
Ellis is a Senior Media Studies major who is looking to become either a sports writer or sports broadcaster after he graduates. He has a passion for writing...