Men's Lacrosse Falls Just Short To No. 2 Le Moyne
The No. 9/10 men's lacrosse team lost by a score of 12-11 to No. 2/3 Le Moyne on Feb. 22. Senior attacker Tommy McPartland was tied for a game high five points on the day. This is the Mavericks first loss making their record (2-1) overall in the 2020 season. Le Moyne remains unbeaten with a (2-0) record.
McPartlands points came from scoring two goals and three assists. Junior attacker Dominic Scorcia had three goals and one assist. Senior midfielder Antonio Rey was 11-for-26 on face-offs and led the team with six ground balls. Sophomore goalkeeper Thomas Umano had a career high in saves with 17 for the Mavericks.
Matt Hutchings had four goals on the day for the Dolphins. Riley Smith had ten saves to earn the victory for Le Moyne.
Le Moyne struck first at the 13:02 mark of the first period but McPartland was able to tie the game shortly after. The Dolphins were able to strike one more time which would give them a 2-1 over Mercy heading into quarter two.
Dominic Scorcia had the first points of quarter two and tied the game with 13:27 left in the second. The second quarter was then a back and fourth affair which later made the score 5-4 in favor of the Dolphins.
Le Moyne came out firing to start the second half and scored two of the first three goals in the third quarter. The Mavericks fired back and were able to grab a slight 8-7 lead heading into the fourth quarter.
The Dolphins scored three unanswered goals and took a 10-8 lead. The Mavericks answered shortly after, but Le Moyne retaliated and took a three goal lead. The game looked to be over but a late surge for the Mavericks cut the lead to just one. Jack Gibbons had a chance to tie for Mercy but his shot went wide right which gave Le Moyne the victory.
Le Moyne held a 51-32 edge in shots and a 34-31 edge in ground balls.
The Mavericks next contest will be Sunday, March 1st when they host Lake Erie at 1 p.m. The Mavericks won their last contest 8-7 over Lake Erie.
Brady Kearnan is leading the team with 16 points and Dominic Scorcia is second with 15.
Leave a Comment
About the Contributor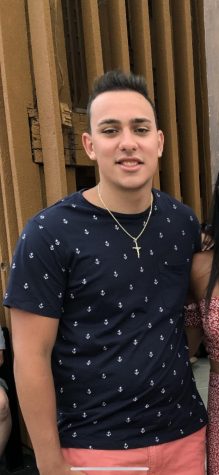 Michael Panteleo, Impact Staff
Michael Panteleo is a senior and studies journalism at Mercy College. He enjoys writing, watching, and playing football and basketball. He is a member...