Women's Lacrosse Win Final Game in Short Lived Season
The Mercy Mavericks women's lacrosse team won their final game of what has been an abbreviated season due to the outbreak of the coronavirus (COVID-19). They defeated Florida Tech on Wednesday, March 11 by a score of 10-3. Senior Katherine Sanchez led the team and  scored a game-high four goals.
In addition to her four goals, Sanchez also contributed with three ground balls and two caused turnovers. The Mavericks also got three goals from junior Briana Corace.
The game started off with both teams holding their own on the defensive side of the field. Mercy got their first goal seven minutes into the first half, with Sanchez scoring her first goal of the game. The Mavericks took a 2-0 lead when Corace scored her first goal with just over 10 minutes remaining in the half.
Following a goal by the Panthers to make it a one score game, the Mavericks started to get their offense going as Sanchez unleashed for two consecutive goals to give Mercy a 4-1 lead. They followed that up with two more goals coming from Corace and Taylor Bishop to take a 6-1 lead going into halftime.
After gaining momentum at the end of the first half, the Mavericks carried it into the second half as they went on to build a 8-2 lead with goals coming from sophomores Juliana Keenan and Kaitlyn Grzelaczyk. While the offense continued to put up points, the defense continued to shutdown the Panther offense. They held them to two goals in the second half which included a shutout in the final 9:23 of the game. The Mavericks got two more goals from Bishop and Sanchez, and ultimately cruised to a 10-3 victory. Mercy held a 24-14 edge in shots and ground balls were tied at 25-25.
With the victory, the No. 11 Mavericks got their second win of the season against a nationally-ranked team. The three goals allowed are the fewest allowed to a nationally-ranked opponent in program history and the three goals scored by Florida Tech are their fewest scored in a game in program history.
This was the Mavericks final game of the 2020 season as all remaining games have been canceled due to the coronavirus (COVID-19). The Mavericks finished with a 4-1 record.
Leave a Comment
About the Contributor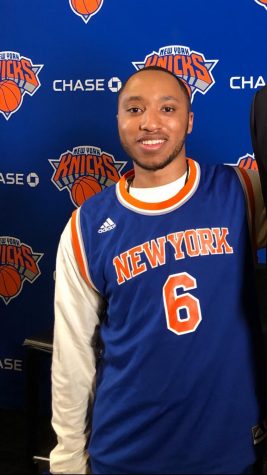 Ellis Joshua, Impact Staff
Ellis is a Senior Media Studies major who is looking to become either a sports writer or sports broadcaster after he graduates. He has a passion for writing...