Freshman Wall Provides Foundation for Women's Basketball
Despite the Mavericks missing out on the East Coast Conference Women's Basketball Tournament, the rise of freshman Katie Wall may prove vital for the team going forward.
Wall is from Wappingers Falls, New York, and played her high school basketball at Roy C. Ketcham High School.
Even though she is a freshman, Wall is no stranger to success on the court. She scored over 2,000 points at Roy C. Ketcham High School in Wappingers Falls, New York, and was a three-time league MVP. She credits her success to the play of her teammates.
"I was able to have success on the court this season because of my teammates. Without this team, they wouldn't have pushed me in every practice to be the best basketball player that I could be."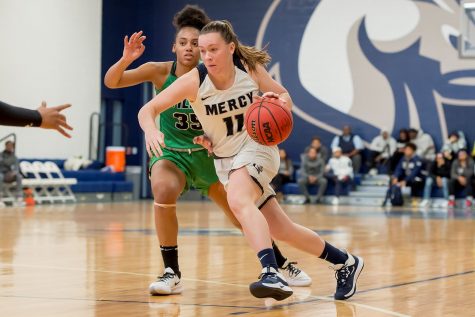 She led the Mavericks in scoring this season, averaging 12 points per game, proving to be a consistent scoring threat.
The freshman guard had many strong performances this season, but her favorite moment sticks out, "When we were down five to L.I. Post with a minute to go and no one gave up."
On Dec. 4, The Mavericks were 4-3 after beginning the season 0-3. The Eagles were on a winning streak of their own, sitting at 4-1 after dropping the season opener.
Wall scored the last seven points of the game, including a 4-for-4 free-throw performance in the final seconds to win the game, 72-69. Teammate Taysha Bender chipped in 19 to lead the team in scoring.
"No matter how many points we were down, we always had the same attitude and competed. We kept playing, and that's the way we played the whole season."
Their win in double overtime against Caldwell University was a very hard-fought win, where Wall had a career-high, which was 21 points. Wall shot a perfect 14-for-14 from the line and also grabbed eight boards as she dished out seven assists. She did everything possible on the court and helped propel her team to victory.
"We were down most of the game and we had this fire under us that we never quit. Going into overtime, I knew that we would seal the deal."
That kind of confidence in her teammates shows exactly why she is a great leader on and off the court. Wall was not alone on the court and had some key contributions from her teammates, "Abigale Collier really brought the best out of me."
Collier is the team's center and has been a defensive key for the Mavericks for the past two years, leading in blocks and near the top in steals. As a senior, she doubled her points per game total.
"As a freshman, everything is new to you and the whole atmosphere of living the college lifestyle and it fits in with the team. She could take me under her wing and always be there for me no matter what. The team will not be the same without her leadership and I'm so lucky that I could play with her."
The Mavericks may be without Collier, but lucky for them they have Wall for another three years.
Wall is already looking forward to next season with the Mavericks and is ready to make another splash this year on the court. The Mavericks had four more wins than last year and are looking to make a name for themselves in the ECC tournament.
"My expectations for next year are high. Coach Scott has done his best to change the program around and he already doubled our win total from last year," said Wall. "This team has so much talent and if we work hard this season, I believe we can make the playoffs and do some damage in the league."
For Wall, the choice to play for Mercy was an obvious one.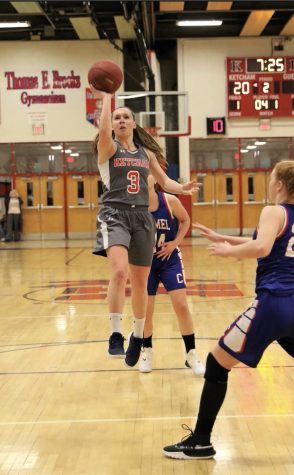 "I chose Mercy because I knew this team has the talent to be very successful. Being close to family and friends was a bonus and when I stepped on campus for the first time. Everything felt right."
Leave a Comment
About the Contributor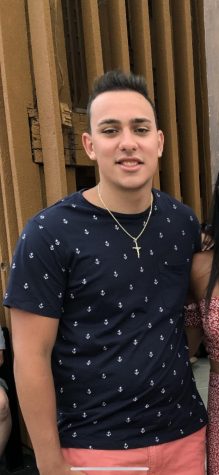 Michael Panteleo, Impact Staff
Michael Panteleo is a senior and studies journalism at Mercy College. He enjoys writing, watching, and playing football and basketball. He is a member...