Remembering John Lionetti
Mav Alum and Lax player tragically passed in August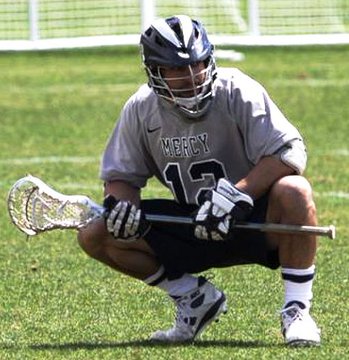 Once a Mav, always a Mav.
Truer words were never spoken in regard to the passing of John Lionetti, a beloved member of the men's lacrosse team whose friends, family and teammates remember him as a leader who was determined yet humble.
On Aug. 19, Mercy College announced the tragic loss of alumnus John Patrick Lionetti, 31. The announcement was sent out over both the @mercyMavericks Twitter and @mercymlax Instagram accounts.
Lionetti was a two-year member of the men's lacrosse team from 2011 to 2012. Statistically, he had an outstanding career as a Maverick that entered him into Mercy's record books.
A close friend and teammate of Lionetti, Sal Spinelli, spoke on Lionetti's desire to win and doing whatever it took to accomplish his goals.
Spinelli remembers Lionetti wanting to be the best at his job because he knew winning faceoffs would give the team a good chance to win the game.
"He loved the one on one battle of facing off. He didn't care how good or decorated his opponent was supposed to be. John was going to make sure the other guy lining up across from him was going to have a rough day. He Surprised everyone, game in and game out."
In his two years with the Mavericks, Lionetti made it all the way to fourth all-time in faceoffs taken at 396, and third all-time in faceoffs won at 251. This gives him the highest faceoff percentage for a career in program history at .634 percent.
His talents didn't end with faceoffs either. He finished his career at Mercy fifth all-time in ground balls which included the single-season program ground ball record at 107 in 2011.
Spinelli also recalled a special moment he shared with Lionetti which was something he certainly never was expecting. It occurred playing Dominican College when Lionetti won a faceoff for a fast break.
"We ran a perfect break which most people thought I would shoo,t but at the last second, I saw John cutting down to open space so I just passed it to him. He caught the poor pass from me and ripped a shot top corner. Like he had done it 1,000 times."
An unselfish player who typically created offense for his teammates, it was his first career college goal.
"I selfishly was excited because I had gotten my first assist at Mercy College. I ran up to him and we just hugged it out, both of us so excited. It was one of the most unlikely combinations for a goal. That was John though, surprising everyone every time he took the field."
While Lionetti's talent on the lacrosse field was incredible, the person and friend he was to many is what most people remember.
Scott LoMonaco, a close friend and teammate of Lionetti, remembers the incredibly caring person who would do anything for anyone. When LoMonaco first came to Mercy College, Lionetti was one of the first teammates he met. He remembers how much Lionetti did for him during those early days.
"I was a late transfer so initially I had some trouble finding housing. With no hesitation, he allowed me to room with him off-campus and shared his part time meal plan with me until I got all of my financial aid finalized," LoMonaco remembered. "Every party or night out, John made sure everybody was OK, whether he lent you a couple of dollars or let you ride with him to wherever we went."
Like many, he was more than a teammate. He was family.
"For many, he was the overprotective big brother, and just had a purely wonderful heart."
Lionetti's caring spirit did not end with those of the people that were close to him at Mercy College. LoMonaco recalled how valuable he was during times of crisis for others and how he did whatever it took to make sure everyone was doing okay and helping whoever needed help.
"During Hurricane Sandy, he made sure everybody was OK, especially those off-campus, making countless trips to the store for people in the dorms when the cafeteria was temporarily closed."
After graduating from Mercy, Lionetti stayed close with many of his teammates and never veered off from his caring nature. As he and his friends grew up, his love expanded for the families those around him were creating.
LoMonaco spoke about this time and reminded him of just who Lionetti was as a person.
"John and I are both from Long Island and after I graduated Mercy, he would come by my house any time my daughters were around and bought them little gifts. He was a hard worker who loved his family and friends dearly."
Lionetti's outreach to others wasn't solely reserved for the people he played with or the people he encountered during his time at Mercy.
Thomas Heyder, who mainly goes by TJ, recalls growing up in Port Jefferson Station and watching Lionetti as a Comsewogue Warrior before he became a Mercy Maverick.
"John was one of my personal favorite varsity players to come watch while growing up as he was significantly older than me. He trained my best friend in faceoffs, and was always around to show us love as we were the next lacrosse generation in the community."
Heyder remembers him as a man who not only was an outstanding lacrosse player but also as someone who a young kid could look up to as they made their way through their own lacrosse career.
"Lionetti was the player who every kid wanted to be like," Heyder said. He remembers being eight-years old and wanting to be just like Lionetti.
"We even grew our hair out and always wore a backward baseball hat just like he did. He was a pure symbol of a role model, big brother, and everything we idolized about the sport of lacrosse."
This is the man that all who knew, loved, and admired Lionetti would know. Lionetti to them was not only an outstanding lacrosse player, but an incredibly caring person who would do anything for anyone without hesitation.
Lionetti's legacy will live last long past the players he played with due to the generations of lacrosse players that will come through because of the players like Heyder, who he inspired. Heyder himself looks forward to playing alongside that legacy with his career as a Maverick.
"I'm even prouder of my selection to come to Mercy knowing his legacy carried him here as well."
Leave a Comment
About the Contributor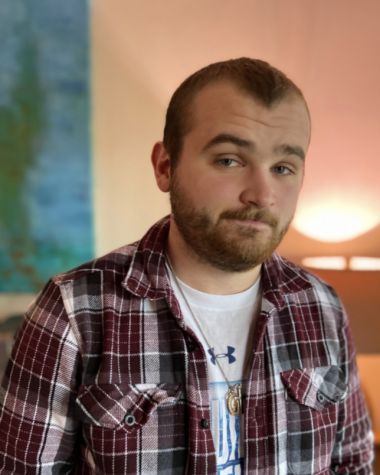 James Tiedemann, Managing Editor
James Tiedemann graduated from Mercy College in the May of 2022. He transferred there after graduating from SUNY Orange with his Associate's Degree in...