Mercy Women's Soccer: Pandemic Edition
While awaiting a potential shortened season, the team finds creative ways to bond and stay in shape
The Mercy College Women's Soccer team has yet to receive official scheduling for the 2020-21 season due to the rising number of COVID-19 cases nationwide. The team has been practicing on the Dobbs Ferry campus since September, carefully following protocols enforced by their head coach Danny Leon Jr.
Leon Jr. became the head coach of the women's team in 2019, after serving as an assistant head coach for four years. He led the Mavericks to an incredible season in his first year pulling all the strings, a 13-3-4 record. The team held the number two seed in the ECC tournament and cruised to a first-round win. The end would come in a heartbreaking fashion as Mercy would lose to Molloy on penalty kicks the following game, but Leon Jr. saw a lot of positive momentum coming into the 2020-21 season.
"We had a successful season last year, but I have bigger goals for this team. We strive to try to make it to the Final Four, as we did in 2017. Winning the ECC comes with its share of difficult obstacles, but as the coach, I work hard in every practice to push my players to new limits and levels of success," said Leon Jr.
The Final Four bid will have to wait another season, as it has been declared that there will be no large championships because of COVID-19 risks. Leon Jr. explained that the most viable option as of right now is a five to six game season, entirely staying in the conference. Playoffs would still occur, but they too would stay local. The abbreviated season is something that players and coaches alike are wishfully hoping for.
When first arriving at campus, the players had to be gradually conditioned back into shape by coach Leon Jr. He broke up the training into stages, taking into account that it would take the girls some time to get themselves back in shape because they weren't able to train how they normally would due to the pandemic.
"In the beginning, it was just conditioning training, no ball work. Limited to a one to four work recovery ratio. Work for 1-minute rest for four minutes. Agility work, getting the body moving again. I had to cut them some sort of slack when they first came back because they naturally got bored with the conditioning packages that were given by the coaches."
He explained how he was completely on board with the protocols, understanding the necessity for the players to wear masks, regardless of how much of an annoyance they can be while exercising. Leon Jr. continues to play club soccer himself, so he was able to relate to the players at times of frustration along the way.
"We were fortunate to be training at all. When we got to phase 3 and 4 and were able to bring the equipment out, the team finally began to regain a sense of normalcy. The training moved to pods of 5-6 players and the team caught a feel of playing in a group setting again."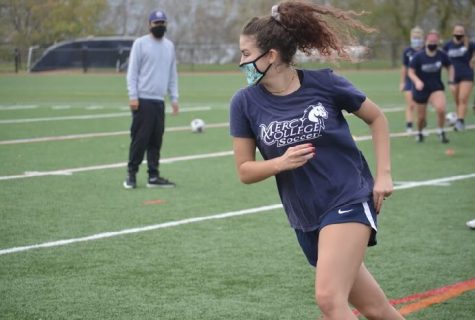 In an interview with Sydney Cooper, a junior at Mercy College and the center on the women's soccer team, she expressed her perspective on the fall training.
"At the beginning of the semester, training sessions were really limited so we weren't able to play at our normal intensity. Once we were able to play as a whole team, it was a really great feeling. It had been so long since we trained together as a team and I enjoyed being able to see our new freshman fitting into the team. While practices aren't as intense as they would be during a normal season, I am happy to have been able to train as a team throughout the fall. I feel we've bonded and created an environment with great energy."
Practicing in the fall gave the team a chance to bond together, as well as keep their skills sharp. Regardless of whether or not there is a soccer season in the spring, being a college athlete is a year-round commitment. With COVID-19 lockdowns, it was more difficult for players to have adequate training equipment.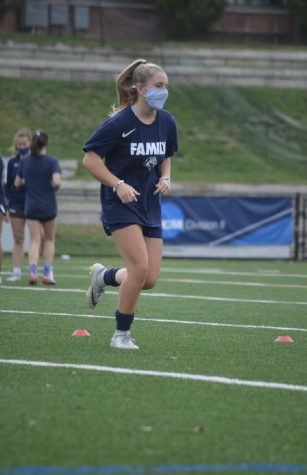 In an interview with Carli LoNigro, a sophomore at Mercy College and the center forward on the women's soccer team, she recapped her experience in training through the heart of the pandemic.
"During the summer, it was definitely hard to find the motivation to workout as we have been locked down for so long. Over the summer, our strength coach JD gave us workout programs to stay in shape and healthy to be ready for our practices in the fall. On top of JD's workouts, I ran and did soccer training by myself or with my current teammate Alexa Billingham," LoNigro explained.
With gyms closed and summer leagues canceled, players had to get creative to find methods of training. LoNigro and her teammate Billingham were able to socially distantly train together occasionally, but most of the workouts were done alone. Cooper also found creative ways to train throughout the summer lockdowns, mentioning going on runs and swimming in the ocean as replacement forms of cardio.
Regardless of whether or not there will be a 2020-21 season, the women's soccer team does not plan on letting any obstacles stand in their way of being the best team they can be.
Leave a Comment