Mercy College Men's Soccer: Pandemic Edition
With the Spring season tournament still in jeopardy, the team has bonded stronger and grown tougher than ever before
The Mercy College Men's Soccer team has yet to receive official scheduling for the 2020-21 season due to the rising number of COVID-19 cases nationwide. The team has been practicing on the Dobbs Ferry campus since September, carefully following protocols enforced by their head coach Pedro Velasquez.
Velasquez has never coached a losing season in his four years as the head coach of the soccer team, with an overall record of 49-17-7. He has earned the prestigious award of ECC coach of the year in 2018 and ECC Co-Coach of the year in 2019, recognized for his tremendous success. The men's soccer team has made three straight ECC tournaments, dating back to 2017, winning the championship in 2019. The team has also had two straight NCAA tournament bids, in 2018 and 2019, a legitimate powerhouse in the world of collegiate soccer.
In an interview with Velasquez, he explained how he was able to get his team back in shape safely throughout the fall semester.
"When we first got to campus there was definitely an adjustment period for everyone. We began with reconditioning which was done strictly out in the field and open air. We had limited access to the gym because only a certain amount of people were allowed to be indoors. Gym training had to be done primarily on an individual basis, which was difficult for some of the athletes.
As time went on, the conditioning became more intense. Velasquez started his players working for a minute and resting for four minutes. This eventually developed into working for a minute and resting for three. This process of conditioning allowed students to adapt to wearing masks while exercising and get back into playing shape.
"Because many of my players were unable to leave home and gyms were closed in their area, it made for a slower recovery. I was very impressed with the resilience they showed through their training, as well as the discipline. The most important things were to get the players back in shape, keep them from getting injured, and help bond the new team together."
This being Velasquez's fifth season coaching at Mercy, he saw it as somewhat of a rebirth of his career. Every player that he had in his first year of coaching in 2016 is now graduated, leaving him an entirely new slate of players.
"A lot of the core group, including many of the seniors, are no longer playing for the team this semester. It's going to be a younger group this year which is still very exciting. We have this time right now to develop this new squad and bond together during these crazy times."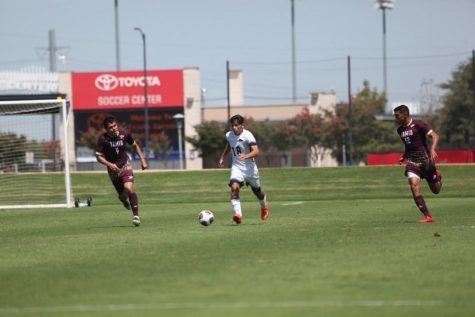 One of the exciting new players on the team is Abraham Lopez, a junior at Mercy College who recently transferred from Harding University to play center midfield for the team. He was unable to play his first season and was looking forward to getting his first reps on the field in the fall. However, COVID-19 prevented that.
"It was very difficult when I heard the news that the season was going to be canceled in the fall. We had to practice with masks on and it was a slow process to getting everybody back on the field. The new team did have time to mesh together and really grow as a unit and I'm very excited to get back to playing actual games again, hopefully soon," Lopez stated.
He hopes to repeat winning the ECC and going to the NCAA tournament again in the team's next full season.
In regards to the next season's outlook, that is still up in the air. Coach Velasquez hopes to at least have a few games in the spring to start to mesh together with the new and promising Mercy College men's soccer team.
Leave a Comment