Kerwin Prince Wins ECC Rookie of the Week as Mavs Drop Two Straight
Game 1: Spartans 119 Mavericks 77
Over the weekend, the Mercy Men's Basketball team tipped off their season against St. Thomas Aquinas College in Mercy College's first sporting event since Spring of 2020. The outcome wasn't what it was hoped for as the Mavericks fell to the Spartans in game one of their two-game stint, 119-77.
The newcomer from Westbury, Connecticut, Kerwin Prince, dropped 28 points and collected 10 boards in the Mavericks' loss on Saturday afternoon. After having a team-high 28 point game, Prince expressed how he felt after his first loss as a Mav saying, "We started off slow, and we just have to get comfortable with playing together."
Kerwin Prince was also named ECC Rookie of the Week after his performance on Saturday. "As a team, we'll be fine and we have to keep playing like we have a chip on our shoulder every night. I will always have a chip on my shoulder."
Prince went 9-for-13 on the floor and hit 9 of his 12 free throws from the line on Saturday.
Also making his Mercy debut was junior James Taylor Jr., who transferred to Mercy from Neosho County Community College in Kansas in the fall. He had 10 points and four assists in Saturday's loss. He was the only other player on the team to score double-digit points. Sophomore Brandon Wilson also had nine points in Mercy's first game. Their scheduled opening game on Feb. 1 against Bryant and Stratton College was postponed due to inclement weather.
The Spartans on the other hand already played a game before playing the Mavericks on Saturday. The experience showed as the Spartans dominated the boards and shot 56 percent from three-point land. The Spartans were led by guard Grant Singleton who dropped a team-high 21 points and another 16 points from forward Osbel Caraballo.
Game 2: Spartans 91 Mavericks 77
In game two on Monday night, nothing changed as the Mavericks fell to the Spartans again.Prince dropped another team-high 24 points, going 10-16 from the field, all while grabbing six boards. Taylor Jr. also had 12 points while shooting 50 percent from the field.
Justinas Norkus had 10 points while veteran guard Korey Lee netted 9 points. After Monday's loss, ECC Rookie of the Week, Kerwin Prince said moving forward, "I'm just going to play 110 percent on the floor and find the best way to get a 'dub."
This game was a little bit closer than Saturday's loss as it seemed the Mavericks started to gel together as a team. The field goal percentage was higher than Saturday's as they shot a 45.6 percent field goal percentage as a team. Additionally, they grabbed an overall 35 rebounds during Monday's loss.
The Spartans were led again by guard Grant Singleton, who dropped 19 points and finished two rebounds shy of a double-double. He was named one of the two ECC players of the week. Also, Spartans' guard Demetre Roberts dropped 18 points and was 6-of-8 from the field as they beat the Mavericks 91-77. The Mercy Mavericks will meet the St. Thomas Aquinas Spartans one last time on Feb. 17, at home in Dobbs Ferry. This is part of an ECC in-conference only schedule due to the COVID-19 Pandemic.
A look ahead to Saturday Vs. Molloy College
The Mavericks will return home on Saturday, Feb. 13 to take on Molloy College, with Player of the Week James Montgomery, in another East Coast Conference showdown. Molloy starts the season second in points and field goal percentage. They're first in team rebounds among all East Coast Conference teams.
Stand-out sophomore forward James Montgomery is a big two-way player and leads the team in points and rebounds. He is second in the ECC in rebounds with 12.5. Molloy also has three-point specialist guard Steven Torre who is third in three-point percentage in the East Coast Conference. The Mavericks will have a test cut out for them come Saturday as Molloy is another tough opponent. They will be on their home court for the game at 1 p.m. No friends or family are allowed to attend the game, so you can live stream the game from Mercyathletics.com.
Leave a Comment
About the Contributor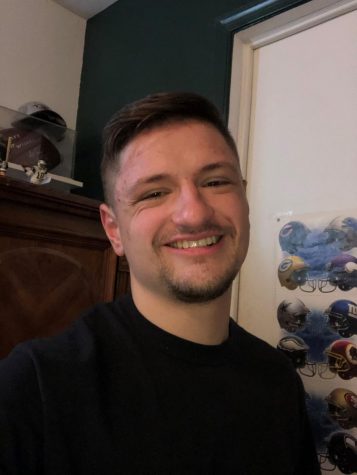 Alex Wendling, Impact Staff
A die-hard sports fan who is eager to learn more about the sports media industry. His dream is to one day work for a big sports news outlet. He is a die-hard...