Women's Basketball Team Looks Ahead to First Game at Molloy
As the men's team has tipped off their season last weekend, the women's basketball team finally gets their time under the spotlight on Saturday when they travel to Long Island to play Molloy College.
Scott Lagas enters his third year as the Mavs women's basketball coach and looks to recover from a lackluster 2019-20 season where the team went 8-19 (2-14 in conference). Lagas says he "feels good" about the upcoming season and feels that the Mavericks can capture their first above .500 record season for the first time in the last 15 years.
There's a lot of new faces this season for the Mavs, Largas said. "We got six newcomers. You know, a lot of our original recruiting class that we recruited into the program now have some experience. I think that we're much more talented and much more athletic than we've been in the past."
"We're very young. You know, we have, I think it's 10 out of our 14 players are underclassmen. So yes I feel good, not only for this year but for the future," Lagas said about his new freshmen coming in.
Some of the notable freshmen that are coming in this season are Jamie Waldron a 6-foot-2 center from Monroe-Woodbury High school. Maria Tedesco, a 5-foot-11 forward from St.Rose High School in Ocean Township, New Jersey, and guard Asya Brandon from Hamden, Connecticut.
Also making her Mercy debut this weekend is sophomore guard Asha Talib who transferred from the University of Bridgeport. During her time as a Purple Knight, Talib came from off the bench, Oonly having 26 points in her freshman campaign. She looks to get more time out on the court as a Maverick this season.
Some notable returning players include second-year guard Katie Wall who led the team in points with 325 and free throw percentage with .870. Also, 6-foot-1 center Brianna Lee who recorded 10 blocks and a total of 37 rebounds.
Last season, the Mavericks doubled their wins from the year before in 2018-19. A concern that Coach Lagas has is keeping the lead late in games as that was a concern last season. "There were a lot of games that we were ahead of where we were very close and didn't finish the job on. I think understanding how to win those tight games is a goal for us so, once it comes time for the playoffs, we can turn that into playoff runs and we'll have the experience."
The Mavericks have to figure out their identity with such a young team as a lot of their starters from last season graduated. This Saturday at Molloy will be a big test for the team as it will be their first game since their game on Wednesday was postponed.
They are the only team in the ECC that hasn't played a game so far this season. Every other team in their conference has played at least one game, including Molloy who is coming off a two-point loss to St. Thomas Aquinas College. They will be looking to bounce back against the Mavericks.
Some players to look out for Molloy are guard Katie Marquardt, who had 11 points, forward Morgan Staab who had 10 points, and guard Gabriella Aspuru who dropped 12 points in their loss to the Spartans.
In Mercy women's basketball history, the Mavericks have only beaten the Molloy Lions twice in their history. Their overall record is 2-30 against Molloy so, the Mavericks will be playing with a chip on their shoulder Saturday afternoon.
The game is at Molloy College in Rockville Centre, New York so you can live stream the game on Mercyathletics.com. The Mercy Mavericks return to Dobbs Ferry on Feb. 20 against Daemen College for their first home game of the season. After, the Mavericks will be on a three-game road trip, two this week against Molloy College and then in Sparkill, New York against the St. Thomas Aquinas Spartans.
Here are the Numbers:
Mercy 2019-20 Team stats Via Mercyathletics.com
SCORING:
Total Points 1645
Points Per Game 60.9
Scoring Margin -13.4
SHOOTING:
FG: Made-Attempted 546-1557
FG: Percentage .351
3PT: Made-Attempted 147-505
3PT: Percentage .291
3PT: Per Game 5.4
FT: Made-Attempted 406-592
FT: Percentage .686
FT: Per Game 15.0
REBOUNDING:
Total 1087
Per Game 40.3
Margin -0.6
ASSISTS:
Total 278
Per Game 10.3
TURNOVERS:
Total 539
Per Game 20.0
Margin -5.3
Assist/Turnover Ratio 0.5
Points Off Turnovers 12.5
STEALS:
Total 146
Per Game 5.4
BLOCKS:
Total 69
Per Game 2.6
Leave a Comment
About the Contributor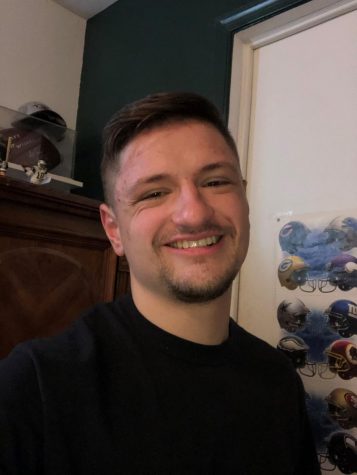 Alex Wendling, Impact Staff
A die-hard sports fan who is eager to learn more about the sports media industry. His dream is to one day work for a big sports news outlet. He is a die-hard...