Men's Basketball Splits in Double Header vs. Molloy, Prince Continues to Impress
Molloy 83 Mercy 82 F/OT
On Saturday, Mercy fought a battle in game one of their two-game series against the Molloy Lions. It was a tough one as the Mavericks lost by a point to the Lions in overtime. This game was all offense as five players had double-digit scoring games.
James Taylor Jr. had a career-high 23 points while also having six rebounds. Stand-out freshman Kerwin Prince also recorded his first double-double as a Maverick with 11 points and 15 rebounds on the day. Brandon Wilson dropped 14 points and contributed on defense with a critical steal in the game. New Jersey native, Elijah Mitchell, got into the mix with 10 points, and coming off the bench freshman, Jay Turner had 12 points, two steals, and five rebounds.
However, the scoring surge from those five Mavericks wasn't enough, as Molloy prevailed in the end. They had six players score double-digit points in Saturday's affair. Guard Frank Phelan dropped a team-high 19 points while James Montgomery, Darren Fergus, Steven Torre, and Kenny Lazo all had double-digit points. Pano Pavlidis coming off the bench also scored 10 points himself.
Mercy 92 Molloy 66
Mercy bounced back big in game two thanks to the offensive surge from sophomore Garrett Kirkland, who dropped 20 points. Six of those 12 field goals made came from the three-point line. The crazy part about his performance on Sunday was that Kirkland wasn't in the starting five he dropped 20 points off the bench.
"We came out early with a strong effort on both ends of the floor and we were aggressive from the jump," Kirkland said after Sunday's win. "We played as a team and let our defense lead to our offensive surge."
The Mavericks bench was loud and proud cheering the men on the court, and it helped propel them to their first win on the season. Kerwin Prince continued to impress his teammates and Mavs nation by dropping 17 points in game two. Brandon Wilson also had a 15 point game in Sunday's win.
Another notable name who only had four points but his presence was known when he was on the court was Lithuania native Justinas Norkus. He had a key block down the stretch and was a complete force on defense for the whole game. James Taylor played another great game with 15 points while going 6 for 12 from the field. Veteran Davon Cuffey had a big day on the boards with 10 rebounds.
After the game freshman, Kerwin Prince talked about what was different from Saturday's loss and how it propelled the Mavericks to a win on Sunday "We just played better in every category and we came out with good energy to start the game and throughout the game. Last game we started off slow."
Kerwin Prince was crowned ECC rookie of the week for a second straight week after his amazing back-to-back performance against Molloy. He was also named ECC defensive player of the week after averaging 7.0 defensive rebounds, 2.3 steals, and 1.3 blocks per game in over three games last week. This will be a big momentum booster as the Mavericks look to seek revenge against the St. Thomas Aquinas Spartans, who are atop of the East Coast Conference with a 6-0 record, after losing to them in back-to-back games to open up the season.
A look ahead to Wednesday Vs. the Spartans
The St. Thomas Aquinas Spartans are the top dogs in the ECC with an undefeated record and they are nationally ranked at 16th in the country among Division Two basketball teams. This is a David vs Goliath match-up as the Mavericks are the clear-cut underdogs going into Wednesday's match-up. The Spartans moved up one spot in the national rankings after beating Roberts Wesleyan in an overtime thriller.
The Mavericks already lost to them twice this season so this is a revenge game for the Mavs. Some players to look out for on the Spartans are Demetre Roberts who won the ECC player of the week and is averaging 16 points per game and is shooting a cool 45.2 percent. Also, Junior guard Grant Singleton who is averaging 19.5 points per game and is shooting 57.5 percent from the field is another player to look out for in Wednesday's game.
You can watch the game via Livestream at Mercyathletics.com.
Leave a Comment
About the Contributor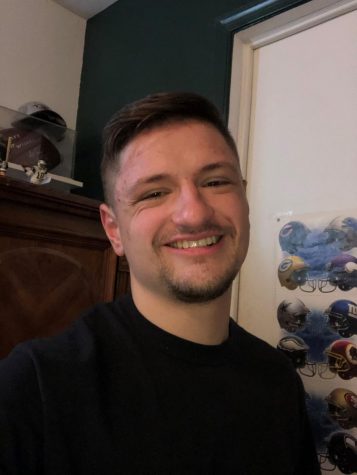 Alex Wendling, Impact Staff
A die-hard sports fan who is eager to learn more about the sports media industry. His dream is to one day work for a big sports news outlet. He is a die-hard...